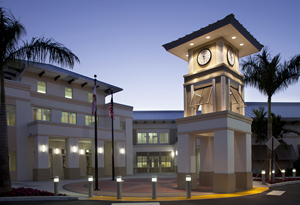 Members of the Wellington Village Council tabled an ordinance Tuesday that would have set higher fines for code violations.
Council members worried that fines would not be enough to dissuade defiant violators and voted to table the measure to discuss other methods of making people comply.
Under the proposed code changes, violators could be fined up to $1,000 for first violations, $5,000 a day for repeat violations and a $15,000 one-time charge for irreparable or irreversible violations.
The maximum fines now are $250 a day for first violations, $500 a day for repeat violations and a one-time charge of $5,000 for irreparable or irreversible code breaches, Director of Growth Management Bob Basehart said.
"There are property owners in the village who repeatedly violate the code," Basehart said. "The level of fines that can be given to them is not sufficient to cause them to comply. We find that continuing to violate the code [and paying fines] is the cost of business that they are willing to pay."
But Councilman Howard Coates said he was concerned about passing such a broad ordinance.
"I can't pass something that will have village-wide application, basically doubling the fines for all our residents, if we're talking about just one or two violators in this village that need to be dealt with directly," he said.
Councilman John Greene said that some of the cases present public safety issues.
"If you drive through some of these [transitional] neighborhoods, you have essentially slumlords," he said. "It's a disgrace that we have communities in Wellington that are like this."
He said the proposed ordinance could be used to help deal with those individuals.
"This is not a tool to go out and harass somebody whose child is parking on the swale," Greene said. "When we have people who don't care that the rules don't apply to them, it just becomes the cost of doing business."
Coates noted that a document listing recent fines issued after special magistrate hearings showed that Wellington doesn't typically assess the steepest fines to violators.
"From what I see, the problem isn't that the fine isn't set high enough, it's that the discounts from when you actually challenge the system are way too draconian," he said. "We get about 10 percent of what our fines are."
Councilwoman Anne Gerwig said it was complicated, because many fines are reduced to get abandoned homes sold.
"When you come in with an imminent sale and $35,000 worth of liens from code violations, we're asked to forgive them so that the sale can go forward," she said.
But Coates said it seems like everyone gets a discount.
"We need to enforce the law," he said. "If the fines of $1,000 are not working because we discount them 90 percent, then increasing that fine isn't going to work if we're still discounting them."
Councilman Matt Willhite noted that the council does not currently have the jurisdiction to instruct special magistrates to enforce the fines strictly.
Greene asked whether such a policy could be put in place. "Can we have a policy that says you can't reduce a fine by more than 30 percent?" he asked.
Code Compliance Manager Steve Koch said that the special magistrate often takes recommendations from staff.
"We'll offer them a settlement, and that will go to the magistrate for approval," he said.
Village Attorney Laurie Cohen said that it might be possible to create a policy, but she cautioned council members against taking away the special magistrates' discretion completely.
"You may be able to articulate some sort of a policy," she said. "But you don't want to restrain them, because there may be certain circumstances where it's entirely appropriate [to reduce the fines]."
Mayor Bob Margolis said he thought more than just a fine increase is necessary.
"I don't think this is the answer," Margolis said. "I think we need to have something more. I think we need a more effective solution than to just raise the fines. This is a bigger issue than just serial violators. We have a serious code issue with a small number of people who just scoff at the law."
Willhite said he'd like to see a more comprehensive plan to deal with problem residents come back before the council.
He made a motion to table the ordinance, which passed unanimously. Village Manager Paul Schofield said it would return in August, but Greene requested to see it sooner.
"I don't want this to drag on into next season," he said.
ABOVE: The Wellington Municipal Complex.