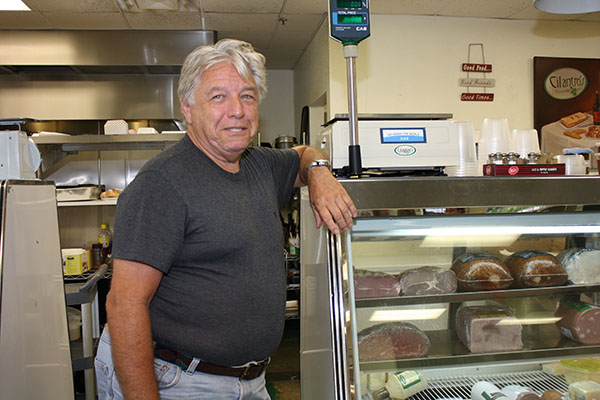 BY ALEXANDRA ANTONOPOULOS
Cilantro's Gourmet Deli in Wellington offers more than a strong cup of coffee or a delicious sandwich to its customers. The restaurant has taken on the role of an unofficial polo hangout, and owner Herman Moreira wouldn't have it any other way.
"Being in polo since I came to Wellington, I know a lot of people in the sport. One and then another and then another would come in," Moreira said, explaining why his restaurant is frequented by polo players.
With its proximity to polo fields and equestrian facilities, in season Cilantro's feeds several hundred people each day, many of them names that Wellington knows well. Photos of Moreira with polo players Nacho Figueras, Melissa Ganzi and more are interspersed with pictures of family and other international celebrities.
"This one is of the son of the King of Spain," Moreira said before pointing to another photo of himself with Prince Charles. "Some of my customers are the best polo players in the world."
Originally from Uruguay, Moreira moved to the U.S. when he was 19.
"Cilantro's started as a hobby. I've been a jeweler all my life, but I always loved to cook. That was my thing," Moreira said. "I was driving to Miami for 18 years, every day. One day, after being in jewelry for so long, I decided to make a change."
When Moreira discovered that the land Cilantro's presently sits on was available, he knew it would be the perfect place for the restaurant he imagined.
In 2004, Moreira opened Cilantro's with a menu inspired by traditional American deli favorites, such as cold cuts and ham and cheese sandwiches. However, it has since become influenced by the tastes of his regular Argentinian customers.
"Slowly, when the polo people started coming in, the menu began to change," he said. "They are used to different things — steak, fried eggs on top with French fries — the kind of food we liked in my country."
Moreira took it as an opportunity to expand his menu and incorporate South American elements into his dishes.
"We have great bread and the dough actually comes from Uruguay and is baked here daily. Six in the morning, before we open, we cook and bake it all fresh every day," he said. "We have a great selection of sandwiches."
One of the best-selling sandwiches at Cilantro's is the chivito, with filet mignon, cheese, bacon, lettuce and mayonnaise, topped with a fried egg. "It is from Uruguay, and I haven't found anybody yet who doesn't like it," Moreira said.
In season, Cilantro's is open from 7 a.m. to 6 p.m., seven days a week. Moreira also offers catering for parties of 25 to 450 people, and works with hosts to create menus unique to their needs and tastes. "The first thing I do [for a party] is ask them what they want. If they don't know, I will give them my suggestions," Moreira said. "Three years ago I did a party and the host wanted Armenian food. I had an ex-partner who was Armenian, so I called his mom and [planned a menu]. It was fun; it was like a challenge for me."
What customers find when they visit Cilantro's is an owner who loves what he does and relishes putting his heart and soul into his work. "This was my dream to have a place like this," Moreira said.
Cilantro's Gourmet Deli is located at 3975 Isles View Drive near Polo Park Middle School off Lake Worth Road in Wellington. For more information, call (561) 296-6500.
ABOVE: Herman Moreira, owner of Cilantro's Gourmet Deli.