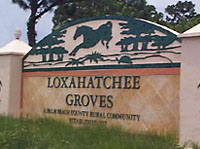 The Loxahatchee Groves Town Council granted preliminary approval Tuesday to an ordinance that would allow Big Dog Ranch Rescue to locate on a site in the community, offering veterinarian services and dog boarding as accessory uses.
Town Manager Mark Kutney said the town's Uniform Land Development Code allows animal rescue services, but it does not currently allow veterinary services and animal boarding as accessory uses.
Big Dog Ranch Rescue filed an application requesting that the council make such uses available. The organization needs the veterinary care and boarding uses in order to augment donations they receive.
Representatives of the animal rescue nonprofit said they have outgrown their existing shelter located in unincorporated Palm Beach County behind the Lowe's Home Improvement store at the intersection of State Road 7 and Southern Blvd.
They are looking at several locations on Okeechobee and Southern boulevards. A potential site at the northwest corner of Bryan and Folsom roads was eliminated after neighbors objected at the council's April 2 meeting.
Town planning consultant Jim Fleischmann said the ordinance would allow rescue facilities with the accessory uses in the town's agricultural residential district.
Fleischmann said the amendments would address most if not all of the concerns raised by residents, who were concerned about smells and barking dogs. The amendments include a definition of what an animal rescue facility is, an increase in the minimum size of property from 5 acres to in excess of 10 acres, and a clarification that veterinary care and animal boarding could only be attached to the animal rescue facilities.
"The wording makes it clear that it can only be in conjunction with animal care," Fleischmann said. "There are also provisions for waste disposal."
The ordinance has a section on the number of animals allowed per acre, which ties to current county regulations, which allow up to 30 dogs and cats for parcels of 2.5 acres or larger. It also has criteria for outdoor runs, recommending a minimum 200-foot setback from any residential area, enclosed by a chain-link fence and landscape area around the fence. The architecture must also conform to the town's rural vista guidelines.
Fleischmann said that Big Dog Ranch Rescue representatives appeared at a recent meeting of the Loxahatchee Groves Planning & Zoning Board, whose members had no objections to the amendments proposed by staff and were in full support.
Councilman Jim Rockett asked Fleischmann if the ordinance would preclude Big Dog Ranch from locating at the Bryan and Folsom parcel, and Fleischmann said it did not, but the applicant still has to go through the special exception process if it were to apply for that location.
Rockett asked why the town is doing the land use amendment process now, rather than after a site is selected, and Fleischmann said the application was made by Big Dog Ranch Rescue because they wanted to make sure the code would allow them to operate with the accessory uses.
Kutney said the ULDC text amendment is written comprehensively, so that it could apply to other animal rescue uses.
Councilman Tom Goltzené was concerned that the amendment applies more directly to a dog rescue operation, rather than other animals, and that the way it is worded, an applicant could have a veterinary service if it has an animal rescue facility, but not the other way around.
"I'd like to have staff look at this a little better," Goltzené said. "I'm not qualified to discuss the rescue business, but I'm concerned about how these issues affect other people. I think we need to rework it if I'm going to vote for it."
Town Attorney Michael Cirullo said an animal rescue facility is currently allowed with a special exception as long as the use does not deter from the property value or peace of surrounding neighbors.
Mayor Dave Browning recalled a hybrid wolf facility that operated near his home. It was on a 20-acre site, but the howling of the animals still kept him and neighbors awake at night.
During public comment Jeff Brophy, agent for the applicant, said the Folsom and Bryan location had been eliminated due to neighbors' objections. "We can't do that at Folsom, so it leaves Okeechobee or the Southern site," Brophy said.
He added that the nonprofit's current site is on 28 acres, but Big Dog Ranch Rescue can operate on only 4 acres, and the site, originally a wildlife rescue facility, was retrofitted but is still not suitable for dogs. He noted that the new facility would have dogs outside only from 7:30 a.m. to 7 p.m.
Big Dog Rescue has the donations and is ready to begin construction, Brophy said.
"That's the reason we're going through the process," he said. "If the town does welcome us in, whoever the neighbors are, we will include them in the design and approval process. We want to make sure the community embraces the design."
Lauree Simmons, president and founder of Big Dog Ranch Rescue, said the no-kill facility wants to get the full approval from the council and residents.
"We want to become part of your community and something you will be proud of," Simmons said. "We want our project to be beautiful and nationally recognized. Our buildings will look more like ranch houses."
Ruth Menor, executive director of the Vinceremos Therapeutic Riding Center and a resident of Bryan Road, said she was happy the Bryan and Folsom site had been excluded.
"I know the challenges they face being a not-for-profit, but just as we developed our site, we're very concerned about our neighbors, and how it would affect them," she said. "My center happens to be on a road that doesn't have a lot of traffic. The only other neighbor that we have is Palms West Hospital, Everglades Farm Equipment and another horse farm. I think the traffic would be my main concern for this organization."
Jarriel made a motion to grant preliminary approval to the ordinance with the understanding that it would be tweaked to take council concerns into consideration. The motion carried 4-0 with Councilman Ryan Liang absent.