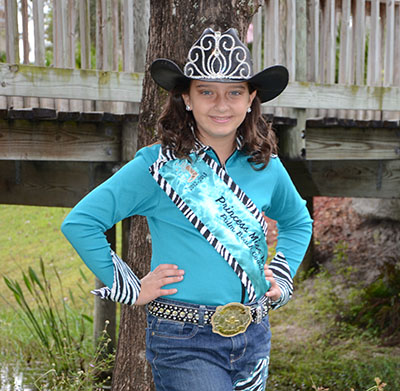 BY ALEXANDRA ANTONOPOULOS
Last October, fourth-grade student Sierra Lyn Rush competed in the "Princess" division of Miss Rodeo Palm Beach County, winning the crown and securing her spot to compete at the state level. Now, Rush will vie for the title Miss Rodeo Florida in September at the state pageant in Okeechobee.
After months of appearances to promote the pageant and the sport of rodeo, Rush, a student at Pierce Hammock Elementary School in The Acreage, is ready to take on her competition, and the Miss Rodeo Palm Beach County organization is behind her 100 percent.
To assist Rush on her journey to capture the state title, Miss and Mr. Rodeo Palm Beach County will host a fundraising event, dubbed Sierra's Sweet Tea Party, at Nicole Hornstein Equestrian Park (14780 Hamlin Blvd.) on Saturday, June 15 to celebrate Rush's achievement and help her raise money to compete at the state level.
Chelsea Chilcutt, director of Miss and Mr. Rodeo Palm Beach County, is adamant that this pageant is not about smiles or makeup — it's about hard work, dedication and educating the community about the sport of rodeo.
"[Miss Rodeo Palm Beach County] isn't just a pretty crown on their heads," Chilcutt said. "It's a confidence builder, a lesson in time management and responsibility, and they are working hard for their titles."
Pageant contestants compete in several areas, determined by their age. Children from infants through 6 years old compete in the photogenic and western wear categories, while children 7 and older compete in western wear and are interviewed.
In Rush's division, competitors age 10 and older must also ride. Judges score them on ability, taking into account the behavior of the horse, as well as the rider's composure and the difficulty of their routine.
"Sierra was new to rodeo when she began with us, and she has worked very hard to get to this point," Chilcutt said. "She is only 10, but Sierra is very mature and was always willing to help the younger girls, with horses, riding or whatever."
Money raised from Sierra's Sweet Tea Party will be put toward Rush's weeklong stay in Okeechobee, where she will compete for the Miss Rodeo Florida title, and will cover additional expenses she and her family will incur during that time.
The fundraiser is a free event and starts at noon on June 15. Visitors are encouraged to break out their cowboy hats and boots to get into the spirit of the pageant. It will be a family event with food vendors, a silent auction, a petting zoo, bounce house, raffles and more.
For more information on the fundraiser or Miss and Mr. Rodeo Palm Beach County, call Chilcutt at (561) 352-4225 or e-mail her at chelseacai@yahoo.com.
ABOVE: Miss Rodeo Palm Beach County Sierra Lyn Rush.