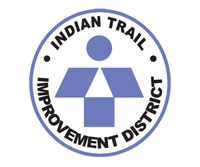 The Indian Trail Improvement District's request to get approval for more stormwater discharge is moving forward, but could be held up due to leadership changes at the South Florida Water Management District.
Although ITID has been fighting for more discharge rate for years, the issue became crucial after Tropical Storm Isaac dumped about 18 inches of rain on The Acreage last year, leaving residents flooded for more than a week.
Attorney Ruth Clements told the Indian Trail Improvement District Board of Supervisors on Wednesday that she has met several times with SFWMD staff to discuss ITID's permit for peak discharge into the C-51 Canal.
"We've gotten very affirmative response to our request," she said. "We've gone over a lot of global solutions, not just discharge into the C-51 Canal."
However, last month's sudden resignation of SFWMD Executive Director Melissa Meeker has thrown a wildcard into the negotiations.
"We are in a very delicate position right now," Clements said. "They are in an interim period without a leader in place, and we are going to be having our proposed permit modification undergoing review when we have a lot of intense negotiations with the district."
Clements said she wants to keep a strong negotiating team intact to continue talks with the water management district.
Clements also reported on improvements planned to the J.W. Corbett Wildlife Management Area berm.
"Based on the ongoing deterioration and this board's action authorizing emergency repairs to that berm, I drafted a letter for [ITID District Administrator Tanya] Quickel's signature last month to the South Florida Water Management District asking that they cost-share the emergency repairs that we will be doing," Clements said.
She added that the ITID board authorized $600,000 for emergency repairs after Isaac, and she heard May 22 from the SFWMD that it would be selecting the final alternative within a month.
"They're going to be doing their cost estimates, and they would be looking to coordinate with Indian Trail if the final design uses the existing berm to incorporate those emergency repairs in that final design," Clements said. "At this point, I think we're moving ahead in a really good fashion regarding those Corbett berm repairs."
She said ITID currently has a good rapport with the SFWMD. "We have excellent backing by the governor," Clements said. "We have $4 million that was approved in the budget. Granted, that was only half of what we were asking for, but that's $4 million more than a lot of people got. That $4 million allows us to get started this year. We will be going back to the legislature next year asking for additional money to continue the repairs."
In other business, the board authorized a contractor to repair two of the district's six road graders. According to ITID staff, it will cost significantly less than going through the dealer.
Director of Maintenance & Operations Mike Guinaugh said three of the graders were down at one point but that they'd gotten one back from Kelly Tractor.
ITID Vice President Carol Jacobs introduced Bob Ulevich, administrator of the Sebastian River and St. Johns River improvement districts, who introduced heavy equipment mechanic Scott Bell.
Ulevich said he worked for the SFWMD for 28 years before he left. "We got extremely creative in how we spent our money because we didn't have any," Ulevich said. "You had to search for these little nuggets of expertise in mechanical and other areas that made that dollar stretch. One of the gems I found was Scottie."
Bell is the owner of Palm City Hose & Hydraulics. "I've been fixing heavy equipment all my life," he said. "I've never been to one of these kinds of meetings, but I hoped I could come here and help you, [and] earn some money. I've got two other mechanics who work with me."
The firm is mobile, but also has its own garage and storage area for equipment awaiting replacement parts. He does work for Martin County as well as private contractors from as far as Delray Beach, Boynton Beach, Okeechobee and Fort Lauderdale. "They all come to my shop because I do all kinds of different stuff, lots of hydraulics, gearboxes, transmissions, cylinders, hoses, custom steel lines," Bell said. "I don't know if I can help you, but I can try."
Jacobs said she had faxed him information on the repairs needed for the graders and quotes by the Caterpillar mechanic.
"Unless you're rich, you have to have old equipment," Jacobs said. "I have old equipment, and I think now my husband knows how to work on it."
According to Jacobs, in conversations with Bell, he noted that the price quotes from the dealer seemed high. "They want to get you to buy a new one," she said. "And they want to get the old one back for practically nothing."
Jacobs said Bell charges $70 an hour. "If he can even just evaluate what we have and at least put some more life for another three years," she suggested.
Supervisor Gary Dunkley liked the idea. "I like his way of thinking, and this is something we should have done long ago," he said, adding that he would like Bell to evaluate all of ITID's equipment.
Bell said he would be willing to work on anything except cars and small trucks.
Supervisor Michelle Damone made a motion to authorize Bell to work on the graders, and it carried 5-0.