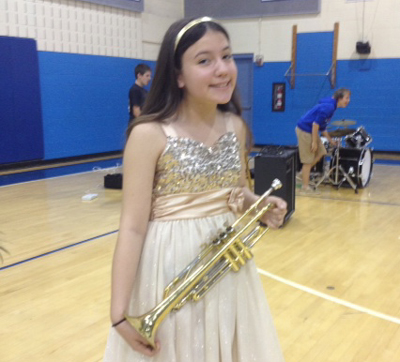 Sixth-grader Alexia "Lexi" Dubocq was cheered by her closest friends at the finals for the talent show at Wellington Landings Middle School in May.
Dubocq performed a trumpet piece called "Venture," which she performed in February at the Florida Bandmaster Association, where she won a medal and a superior qualification.
Dubocq thanks her choir and band teachers, Alayna Morton and Dwayne Earnhardt, for their support in making this happen at the school competition. She also thanks her musician and pianist, Peruvian friend Renzo Dali, who from overseas, played and recorded the accompanist piano piece for "Venture," and her forever music mentor, Melody Stuart.
ABOVE: Horn in hand, Lexi Dubocq stands ready to perform  at the WLMS talent show.