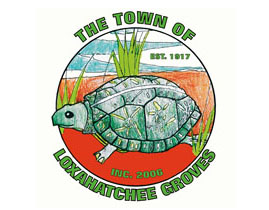 The Loxahatchee Groves Town Council on Tuesday approved the final reading of an ordinance amending the town's land-use code that will allow Big Dog Ranch Rescue to locate in the community with accessory uses that include veterinary care and dog boarding.
Big Dog has not selected a specific site yet, but the conditions of the ordinance will restrict their operation to locations on Southern or Okeechobee boulevards through a special exception.
Representatives of the nonprofit say they have outgrown their existing animal rescue shelter behind the Lowe's Home Improvement store at the intersection of State Road 7 and Southern Blvd. They are looking at a couple of locations on Okeechobee and Southern, but have eliminated a potential site at Folsom and Bryan roads after neighbors objected.
Planning Consultant Jim Fleischmann said the Loxahatchee Groves Planning & Zoning Commission recommended approval of the amendment in May with two conditions: that the minimum lot size be no less than 10 acres and that animal boarding and vet care services be allowed as accessory uses only on collector roads such as Okeechobee or Southern.
During preliminary approval on June 4, Councilman Tom Goltzené said the ordinance should be more general and not so specifically tailored to dogs and cats, and also should be written so they more accurately understand the number of animals permitted in such a facility.
Fleischmann said those changes had been made. "We essentially struck all references to dog care and changed that to domesticated animals or native wildlife so that we expanded the scope of the ordinance to make it clear that these facilities would be open to animals other than just dogs and cats," he said.
Because of the wide range of animals that would be covered, Fleischmann said it was difficult to come up with appropriate language. "What we did was make reference to other agencies that do have control over the number of animals in a facility."
Palm Beach County Animal Care & Control regulations were cited in the ordinance, but it only has references to horses, dogs and cats, Fleischmann said. "That ordinance is quite specific," he said. "That ordinance has 70 pages of regulations for dogs and cats, including space requirements for animals. They have space per animal over a certain weight."
Florida Fish & Wildlife Conservation Commission regulations also were cited as an example for a facility that might be interested in wildlife rescue, Fleischmann said, pointing out that the number of animals permitted would also depend on the size of the property and the building.
Goltzené asked why native wildlife was specified rather than wildlife in general.
"I know that there is a facility that takes care of African antelope and such that has been in the town for a long time, so I think maybe we should just say 'wildlife' rather than 'native wildlife,'" Goltzené said.
Fleischmann said that keeping non-native wildlife is regulated by the state, and the U.S. Fish & Wildlife Service for exotic species.
Mayor Dave Browning, who once had a breeder of hybrid wolves as a neighbor, said he still was concerned about noise from animals, since he has been told that at its existing facility, Big Dog's animals can be heard from the other side of Southern Blvd. He was also concerned that the amendment could open the door to commercial kennels with more intensive uses.
Goltzené was concerned about having equitable noise regulations. "We've really pushed noise ordinances on certain people, so we'd better push noise ordinances on everybody, or we need to lighten up," he said. "It has to be fair and equal enforcement. If the bird's too loud, then the dog's too loud."
Councilman Ron Jarriel said he was not concerned about noise, saying the requested facility is comparable to the Peggy Adams Animal Rescue facility in West Palm Beach. "I've been to Peggy Adams, which is a soundproof building," Jarriel said.
Jarriel said he thought a facility such as Big Dog would be ideal and desirable on the 20-acre parcel at the northwest corner of Okeechobee Blvd. and Folsom Road, which has relatively few neighbors, but not on Bryan Road, a site that had been proposed but was adamantly opposed by neighbors.
Fleischmann said that whatever site that eventually is proposed would be subject to approval by the council, with public input from residents. He added that animal rescue operations are currently permitted anywhere in the town's agricultural residential district without the accessory uses, on lots as small as 5 acres with the council's approval of a special exception.
"The council has several criteria, including compatibility with the neighbors, that apply to the project, and it also can attach conditions to make it compatible," Fleischmann said. "Rescued animal care is a permitted use right now, subject to special exception approval."
Councilman Jim Rockett said he was comfortable with Big Dog's request. "I have a lot of faith that we will do right by the people in the community around that site," he said.
Goltzené made a motion to approve the amendment, deleting the word "native" so that it applies to all types of wildlife, and it carried 4-1 with Browning opposed.
Landscape architect Jeff Brophy of Land Design South, representing Big Dog, said its present location is not ideal for what they want. "They're looking at a $3 million development of these new buildings and facilities for these dogs," Brophy said. "The current facility was never entirely supposed to be for dogs. The new development will be specifically for dogs."
Reiterating Fleischmann's point that the land-use code currently allows animal rescue operations anywhere in the agricultural residential district, Brophy said Big Dog supported staff's recommendations that its planned facility with the veterinary care and dog boarding accessory uses be limited to parcels of at least 10 acres and be located on arterial roadways.
"We understand that the discussion does not end tonight," he said. "This is why we've gone through this process. All these meetings have brought out these certain issues, whether it's from the residents or whether it's from your boards or yourself, and we've taken all those things into account. We look forward to continuing the process with the community and with you as we select a site, design the site and go through the conditions of approval to make sure that all those layers of safety for your residents are in place."