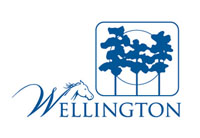 Wellington's Equestrian Preserve Committee recommended approval Wednesday, June 12 of an ordinance that would allow residents in the Rustic Ranches community more lot coverage.
Wellington Principal Planner Bill Nemser told committee members that currently Rustic Ranches has 5-acre and 10-acre lots, and residents are allowed a maximum lot coverage of 10 percent — meaning the footprint of all buildings must be 10 percent of the total lot size or smaller.
In contrast, residents living in Wellington's Equestrian Preserve are allowed a lot coverage of 20 percent. Nemser noted that the 10 percent allotment was in place when the area was annexed into Wellington.
"This [ordinance] originated with a number of letters and signatures that were gathered from Rustic Ranches residents in support," Nemser said.
Of the 125 properties in the community, Nemser said Wellington received 53 verified signatures — about 43 percent of the properties — in favor of the item.
"We support this," Nemser added.
Rustic Ranches is a community of about 640 acres located on the west side of Flying Cow Road. Though part of Wellington, the area is also governed by the Pine Tree Water Control District — an independent special district that controls storm water retention and drainage for the area.
Pine Tree District Engineer Robert Higgins said that most homes in the community currently have about a 3 percent lot coverage. He said that going from 10 percent to 20 percent allowable lot coverage will have a negligible impact if it's only a few properties. "But if there is a widespread change, yes there would be an impact," he said. "There would be a need to compensate."
Committee Chair Cynthia Gardner asked how the district would compensate. Higgins said property owners would be asked to put in a pond to retain water.
"So you don't see this as a prohibitive concern?" Gardner asked.
Higgins said he did not think so, but noted that the Pine Tree Water Control District Board of Supervisors would have to make that decision.
Committee Member Linda Elie asked whether that should be reflected in the ordinance.
Wellington Growth Management Director Bob Basehart said it should be added if the committee wanted to make it a requirement. "You could pick a percentage… and say that anything over that percent would require a sign-off from the water district," he suggested.
Elie was concerned about drainage capacity. "If the current system is set up for 3 or 4 percent [lot coverage], and you're going to allow 20 percent potentially… that's a huge step up," she said. "I don't want the village to be on the hook down the road for drainage issues."
However, Higgins said that the calculations didn't include existing ponds, which allowed for more water capacity.
Nemser noted that when Wellington issues a building permit, it informs the property owner that other permits may be required as part of the process, such as a permit from Pine Tree. "That could be one way to address this," he said.
But Basehart suggested as part of the ordinance, requiring approval from Pine Tree over whatever percentage threshold is decided.
Elie said she felt that would be the fairest way to do things.
"You don't want the first couple of people who apply for this to get signed off on," she said. "And then other people to get turned away. If this is addressed [in the ordinance], I'd be happier."
Elie said she was in favor of the additional coverage. "I just don't want to create additional issues in the process," she said.
During public comment, residents spoke largely in favor of the measure.
Houston Meigs said that several prospective property buyers were interested in having the same rights as allowed in the equestrian preserve. "I think it brings this area in line with the other equestrian areas in Wellington," he said. "I believe this is a reasonable request."
But resident Paula Browne asked how Pine Tree would prevent the flooding problems Wellington has seen recently.
"I am in favor if this," she said. "I hope one day I can build a covered arena. I just want to know what the solution is… if it effects the water system."
Higgins noted that Wellington has a pump system with more drainage capacity, but said that Pine Tree has asked him to evaluate the water outfall.
Elie said she felt drainage issues should also be addressed in the ordinance.
"That building coverage will create impermeable areas where the water cannot seep down," she said. "In my opinion, we don't want to pass this without addressing the situation."
Gardner suggested making approval of increased lot coverage subject to the proposal of Pine Tree.
"This doesn't mean they will approve it," she said. "They can look at each property on a case-by-case basis, and tell each farm owner what they must do to achieve what they want to build. It's not our place here to solve the drainage problems in Wellington. It's just a question of whether we're going to allow them to be equal to the rest of the village."
Pine Tree President Chris Wallace said she felt the provision was not needed.
"I don't feel this is necessary," she said. "What kind of discussion is this going to bring up? What kind of issues will this create?"
But Gardner said Pine Tree would have the option to approve the requests if desired, or bring up issues if there are concerns about drainage.
Elie made a motion to require property owners requesting lot coverage over 10 percent to get approval from Pine Tree. Committee Member Myles Tashman seconded, and the motion carried 3-2 with Committee Member Dr. Kristy Lund and Vice Chair Michael Whitlow opposed.
Now the item must go before the Planning, Zoning & Adjustment Board next month before going to the Wellington Village Council for final approval.