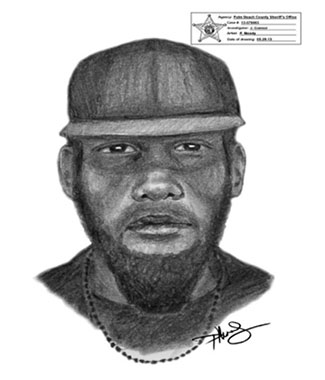 The Palm Beach County Sheriff's Office is seeking the public's assistance in finding a suspect wanted in connection with a May 21 robbery at a bank in Royal Palm Beach.
On May 21 at 12:40 p.m., an armed robbery occurred at the Bank of America branch located at 131 S. State Road 7 in Royal Palm Beach.
The victim, an employee of Murphy's Gas Station, was about to make a deposit at the drive-through when his vehicle was bumped from behind by a red, older model Honda Accord. A man exited the vehicle armed with a semi-automatic handgun and demanded the money bag.
The victim, fearing for his life, handed the suspect the money. The man, described as a black male, returned to the vehicle and drove out of the parking lot. The victim provided information for the composite sketch shown here. If anyone can identify the subject, contact CrimeStoppers at (800) 458-TIPS (8477) or the PBSO at (561) 688-3400.
ABOVE: A sketch of the suspect wanted in connection with the robbery.