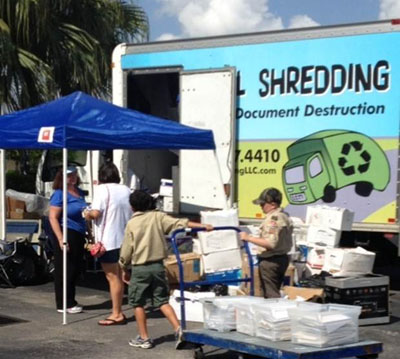 IberiaBank hosted the inaugural Shred Party for Families First of Palm Beach County at its Royal Palm Beach branch Saturday, May 18. For a $5 donation per box or bag, individuals and businesses were able to have items shredded. Shredding was provided by Total Shredding, an onsite document destruction company.
Other activities included a free child ID program courtesy of the Palm Beach County Sheriff's Office, free activities from Lowe's, tours of SWAT and Palm Beach County Fire-Rescue vehicles, as well as music, food and more.
"We are thrilled with the all the support from the community," said Julie Swindler, CEO of Families First of Palm Beach County. "This has been a great event of overall community safety and awareness of the agency. We had such an overwhelming response that we have started planning our next shred party for October."
More than 120 people came out to support the event and have their sensitive material destroyed.
A live broadcast of the event was provided by the WEI Network, while DJ Tony "the Tiger" Armour provided the music. Children were able to get free ID cards as a preventive measure and partake in activities courtesy of Lowe's.
PBCFR gave families tips in the event of a fire, and Chick-fil-A gave away samples. Boy Scout Troop 222 was there to assist individuals with carting their shredding from their vehicle to the shred truck.
Families First is helping families learn how to become productive and successful members of their community. It has established a 23-year history of ensuring families develop resiliency to crisis situations, learning how to increase and maintain social connections, and enhance the knowledge and implementation of parenting and child development skills.
Families First staff works with each of its 1,000 families in Palm Beach County, teaching them how to create a safe, secure and nurturing environment for their children.
Families who seek to build a better quality of life for their children benefit from the agency's five diverse programs that provide a way to reduce barriers impacting family stability. For more info., visit www.familiesfirstpbc.org.
ABOVE: Scouts from Boy Scout Troop 222 deliver items to be shredded.