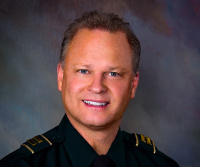 Home burglaries and vandalism cases are down, but vehicle burglaries are on the rise in Wellington.
Capt. Jay Hart (shown above), commanding officer of Palm Beach County Sheriff's Office District 8, told members of the Wellington Village Council on Tuesday that overall, crime in the village is 21 percent below average. Vehicle burglaries, however, increased by 4.3 percent between October 2012 and March 2013.
"Last year at this time, we had 139 vehicle burglaries. This year we have 145," Hart said, noting that most incidents, though, involved unlocked vehicles.
Hart said that the goals of the PBSO have been to focus on property crime prevention, robbery reduction, traffic safety and public preservation.
"Our goal was to reduce property crimes to below 1,000," he said. "We are on track to do that."
So far this year, deputies have made 26 burglary arrests and seen a decline of 19 percent in residential burglaries. There has also been a 28 percent decline in vandalism, Hart said.
The PBSO is continuing its fight against robberies in Wellington. Hart said that Wellington has an average of 30 robberies a year, and his goal was to reduce that number to 20. So far, there have been 15 since the start of the fiscal year last October — 13 in the first half of the year alone, and two more since March.
"There have only been two in the second half of the year so far," Hart said. "I don't know if we'll reach that goal, but it looks like the plan we have put in place to combat robberies is working."
Overall, Hart said that Wellington deputies made 608 arrests this year so far, with the most common offense being retail theft.
He stressed that most of the crime in Wellington is nonviolent. "Less than 1 percent of the crime in Wellington is violent," Hart said.
Traffic accidents continue to be a problem, Hart said. And although deputies have stepped up and written more citations at the request of council members, texting and driving continues to cause accidents.
Hart said the goal is to have less than 2.2 accidents per 100 residents, but he noted that the average is projected to be 2.3 crashes per 100 residents this year.
"Traffic issues are always highest in the first half of the year because that's when we have the largest population," he said. "The goal is to make more traffic stops and to write more tickets to get people's attention."
Deputies wrote almost 2,000 more tickets this year, Hart said — 5,300 compared with last year's 3,600 citations.
"You guys asked us to do something about traffic," he said. "We got the word out to our deputies. They listened; they responded."
But Hart said that effort hasn't curbed the village's traffic woes.
"Did it lower our crash rate?" he asked rhetorically. "No, it did not. As long as we have individuals texting and driving, we're going to have a higher crash rate."
With Florida's legislature making texting and driving a secondary offense, Hart said, it would not necessarily stop people from doing it. But he expressed optimism that it will eventually be curbed.
"It's like our seat-belt law," he said. "It was a secondary offense and, eventually, we made it a primary offense. Once that happens, I think we'll see a reduction in crashes. People are just too busy in their cars."
Wellington has seen success in curbing crime in its public spaces, Hart noted.
"We have beautiful parks in Wellington, and our goal has been to keep them that way," he said. "We now have our deputies go into the parks when they have paperwork to do, so we have much higher presence than we have had in the past."
As a result, Hart said, there have been fewer burglaries in the parks this year than last, though incidents of vandalism remain the same, with two cases this year.
Hart said that crime is down overall largely because the village provides the support deputies need to curb crime.
"We get the job done with what we have, because the Village of Wellington gets us what we need to do the job," he said.
Some council members, however, worried that there is a perception of increased crime in the area.
"The perception in this community doesn't match what the statistics say," Vice Mayor Howard Coates said. "If you talk to seven out of 10 people in Wellington, they will tell you they don't feel Wellington is as safe a place to live anymore and that crime is on the rise."
He asked Hart why there was such a disparity between the statistics and the public's perception.
Hart noted that people don't often talk about the absence of crime in an area. He said that social media make stories of crime in the community spread faster, while successes in curbing crime and preventing crime often are ignored.
"If you're a victim of a crime, these stats mean nothing," he said. "The residents are able to get information out faster. They are communicating more. When someone does have an issue, they don't hesitate to get it out there."
But that is not necessarily a bad thing, Hart said.
"Because we have the lowest crime rate in the county, we are often lulled into a false sense of security," he said. "We want citizens to be aware. We're asking people to protect themselves."
He added, however, that he thought his office could do a better job of sharing its successes.
"Although we're very proud of the accomplishments we've made, we do need to do a better job of getting the word out there," he said.
Also Tuesday, the council approved the Law Enforcement Services Plan with the PBSO.
Hart noted that PBSO makes up about 10 percent of Wellington's budget.
"Seven million dollars is a lot of money, and we don't take that lightly," he said.
Comparatively, Boynton Beach's law enforcement budget consumes 15 percent of its budget, costing $24 million.
"Wellington gets all the bells and whistles the PBSO has to offer," Hart said.
The council voted unanimously to approve the plan.