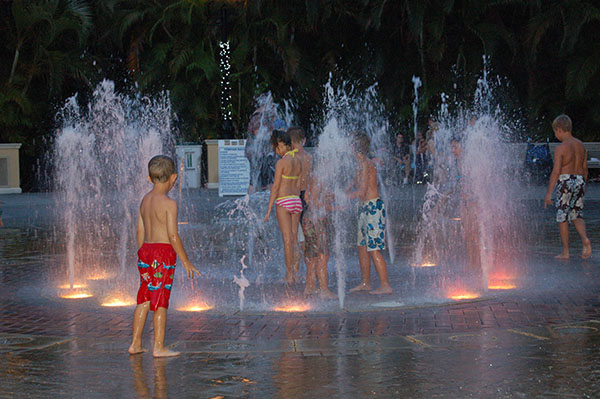 The Palm Beach Zoo is once again offering its popular "Safari Nights" series, but this time with a twist. Safari Nights began Friday, June 7 and will run every Friday evening from 5:30 to 9 p.m., through the end of September.
Each Friday evening will feature different themes, such as marine life, pirates, movies and more. Themes will tie into a different conservation message highlighted that evening. Upcoming themes include: "The Everglades" (June 14), "Pirate Party" (June 21) and "Tropical Luau" (June 28).
In addition to the newly unveiled themes, the evenings will bring back the ever-popular disc jockeying and face painting talents of Glass Productions' Purple People Painters and Noisy Neighbors DJs in the fountain plaza.
Other nightly offerings will include up-close roving animal encounters and special performances of the "Wings Over Water" bird show and "Wild Things" stage show, children's games and take-home crafts in the Florida Pioneer House, dinner specials in the Tropics Cafe, complimentary rides on the wildlife carousel, offerings of the "Paws for a Cause" animal art expo and photo opportunities with the zoo's costumed mascots: Kiwi the Koala, Timmy the Tiger and Speedy the Sea Turtle. Live music for the grown-ups will occasionally be offered on the Tropics Cafe Deck overlooking Baker Lake.
Safari Nights are always free for Palm Beach Zoo annual members. Nonmembers receive discounted admission of $15.95 for adults and seniors, $9.95 for children ages 3-12. Toddlers ages 0-2 are always free. For additional information regarding Safari Nights, visit www.palmbeachzoo.org.
Vendor and sponsor opportunities are still available. For more information, contact the zoo's marketing office via e-mail at info@palmbeachzoo.org.
The Palm Beach Zoo is located at 1301 Summit Blvd., just east of I-95 between Southern and Forest Hill. For more information, visit www.palmbeachzoo.org.
ABOVE: Kids enjoy the interactive fountain during Safari Nights at the Palm Beach Zoo. Photo courtesy Claudia Harden