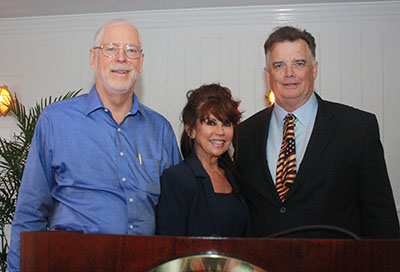 Members of the Wellington Chamber of Commerce learned some secrets to business success Monday from Earl D. Stewart Jr., owner of Earl Stewart Toyota.
At a luncheon held at the Wanderers Club, chamber members learned how Stewart's unorthodox approach to the automobile dealership industry led him to success.
He started with the goal of remaking the image of the untrustworthy car dealer.
"I started realizing that I had a problem with the car dealer's image," he said. "It's a tough image to surpass. There is not a lot of trust. It occurred to me that maybe I wasn't doing things right."
Stewart said the best thing anyone can do for his or her company is to create a trustworthy brand, no matter the product being sold.
The first step was to get customer feedback.
"First change was to decide that I wanted to truly be in touch with my customers," Stewart said. "Instead of reading what the reports say and talking to my managers, I said, 'Why not just talk to my customers?'"
Stewart decided to put his now-iconic red phone into his dealership, giving customers a direct line to him.
"It worked so well, and I got a lot of interesting feedback," he said. "It was a great source of information for me. I learned more about the business in the nine years since I put those red phones in than I did the entire preceding 30-some-odd years. Before, I was learning about things based on what people told me or what a report said. Now, I'm really talking to the customers."
Stewart said that knowing what your customers want is key to providing good service and being successful.
"It really opened my eyes to the other things I had to do," he said.
Meanwhile, Stewart has fought to eliminate hidden fees in the auto industry. "If you've bought a car, you've probably paid a dealer fee," Stewart said. "A dealer fee is something amazing that the law permits, which allows you to increase the profit on a car after you've already posted the price."
Stewart said that the advertised price of a vehicle rarely includes this fee, which can tack an extra $1,000 or more on the purchase price.
"If I were a customer and I walked into an electronics store to buy a television set and the cashier told me there would be a $25 store fee, I'd be very unhappy," he said. "No one else does that but car dealers."
Stewart has since stopped charging a dealer fee and has advocated against the dealer fee before the Florida Legislature, and has also persuaded other dealers to follow suit.
"It's pure profit for the dealer," he said. "You don't pay your employees on that fee. Oftentimes it's more profit than the markup on the car."
He said by giving prices upfront with no hidden fees, customers aren't surprised when they go to pay. "It was a case of understanding my customers and doing what my customers wanted me to do," Stewart said.
Stewart has adapted his business practices into a code that all his employees must follow.
In the code are guidelines that include being honest, taking personal responsibility for customers' problems, doing what is right even when it's not required and putting trust in customers so they reciprocate the trust.
"If you make one customer happy, we've learned the message spreads," he said. "You should go above and beyond what you normally do. Don't settle for a customer being unhappy."
Stewart noted that because of the lack of trust in his industry, it's important to establish trust. Part of this includes letting employees know they have the freedom to do what is right to help a customer without fear of admonishment.
"My employees are empowered to do whatever is the right thing for the customer," he said. "You will never be blamed because you acted in good faith for the customer."
But Stewart also expects employees to take personal responsibility for customer concerns.
"If you're the first person to learn of a customer's problem, then you have the responsibility to stay on top of it until you personally verify that it has been taken care of," he said.
This is also helpful, he said, because it gives employees the power to help customers without having to wait for a supervisor.
Being available to customers is important, Stewart said. He noted that customer phone calls, e-mails or other communication should be replied to promptly, and that it should be easy for customers to talk to the right person without going through a screening process.
"If you call my dealership and ask to talk to someone, you're forwarded to their direct line," he said. "There's never an excuse for anyone not to get a call."
He also encouraged chamber members to advocate for their customers, even if it's not the easy path.
"Our loyalty is to our customers, not to Toyota," he said. "If there's a dispute between our customer and the company, we advocate for our customer."
All of it comes down to trust, he said. Though Stewart noted that in his industry, it's common for the customer and the dealer to distrust each other, it's up to the business person to take a leap of faith.
"You'll be surprised," he said. "When you trust someone, it's awfully hard for them to betray you, though it does happen. We want to trust our customers, and when you really trust them, they will return that trust most of the time."
Stewart recently published a book, Confessions of a Recovering Car Dealer, where he shares secrets to the car-buying business. For more information, visit www.earlsbook.com.
ABOVE: Earl and Nancy Stewart with Wellington Chamber President Victor Connor.