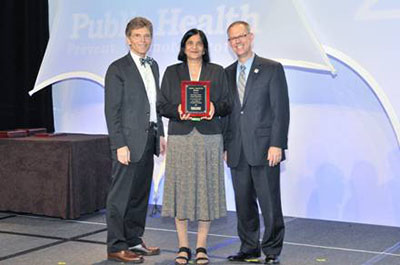 The National Association of County and City Health Officials recently recognized the Palm Beach County Health Department for having a model practice for tuberculosis screening.
With the implementation of the Florida tuberculosis system of care, the Palm Beach County Health Department began evaluating how to better identify persons with latent TB infection or TB.
People with latent TB, in most cases, have their immune system "wall off" or are able to control the TB bacteria and have no illness and feel fine. In those with active TB, the immune system cannot control the bacteria. As the bacteria multiplies the person gets progressively ill experiencing fatigue, fever, weight loss, night sweats and as it infects the lungs, uncontrolled coughing, phlegm, bleeding and chest pain.
The health department's refugee clinic counsels, evaluates and tests 1,200 persons per year from countries where TB is much more prevalent. The initial screening for TB uses a test called PPD, which is a solution injected just under the skin that contains mycobacterium antigens other than TB bacteria and can produce a greater incidence of false positives when the patient returns for a reading several days later.
Doctors and nurses in the refugee clinic instituted an alternative form of blood testing called Interferon Gamma Release Assay. IGRA is laboratory reviewed and does not require a return visit by the patient for results. The new method proved to be more accurate and produced far fewer false positives.
The more efficient testing allows for fewer patient visits for evaluation, and gets those with a positive result into treatment sooner. The IGRA method of TB screening is now recognized as a model practice that demonstrates exemplary and replicable qualities in response to a local public health need.
Dr. Savita Kumar, director of public health residency for the county's health department, was instrumental in developing the methodology and implementing the testing and accepted the award on behalf of the department at the NACCHO national conference.
ABOVE: Dr. Savita Kumar accepts the award on behalf of the Palm Beach County Health Department.