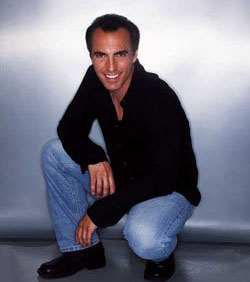 Due to critical acclaim and box office demand, Man of La Mancha, the beloved musical that follows the adventures of the eternally optimistic Don Quixote, has been extended through Sunday, July 28 at Palm Beach Dramaworks' Don & Ann Brown Theatre (201 Clematis St., West Palm Beach).
The show opened July 10 as the first of two shows to be presented in concert as part of the Musical Theatre Masters Series.
Man of La Mancha is directed by Clive Cholerton, with musical direction by Caryl Fantel. Stephen Sondheim's Company follows from Aug. 7 through Aug. 18.
Often referred to as "America's Baritone" as well as a regular on Broadway, William Michals stars as Don Quixote, along with Alix Paige as Aldonza and Oscar Cheda as Sancho. Ken Clement, Natalia Coego, Rodrigo De la Rosa, Nick Duckart, Joshua Grosso, Barry Tarallo and Cassandra Zepeda complete the acting company.
Having last appeared in the landmark revival of Rodgers and Hammerstein's South Pacific at Lincoln Center, Michals made his Broadway debut as The Beast in Disney's Beauty and the Beast. He later returned to play Gaston in the same production.
His career has continued in such roles as Javert in Les Miserables, Billy Flynn in Chicago, Harold Hill in The Music Man and the title role in Phantom of the Opera. He also regularly appears with the country's leading orchestras.
The award-winning Man of La Mancha is inspired by Miguel de Cervantes' 17th-century masterpiece Don Quixote, about a madman and self-appointed knight errant who sets out to perform heroic deeds. The show — with a book by Dale Wasserman, music by Mitch Leigh and lyrics by Joe Darion — takes place in a Seville prison where Cervantes is awaiting trial, and is performed as a play within a play. The show's most famous song, "The Impossible Dream," beautifully captures the piece's message of hope.
The Musical Theatre Masters Series features concert versions of classic musicals, with limited instrumental accompaniment and minimal staging and design. These full-length presentations include both the score and the book.
Performances are scheduled Wednesday through Saturday at 8 p.m., with matinees on Saturday and Sunday at 2 p.m.. All tickets are $35. Student tickets are $10, and group rates for 10 or more are also available.
For ticket information call the box office at (561) 514-4042 or visit www.palmbeachdramaworks.org.
ABOVE: William Michals plays Don Quixote in Man of La Mancha.