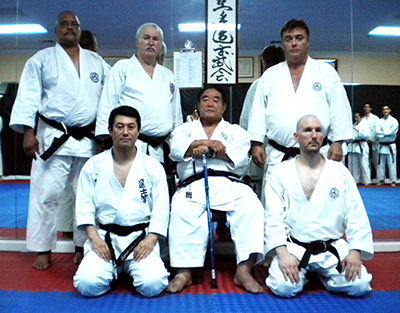 Keith Moore, director and chief instructor of Japan Karate-Do Genbu-Kai of Florida in Wellington, got his start in martial arts training back in 1980 in Cortland, N.Y., a rural community about 30 minutes south of Syracuse, N.Y. He trained in a Japanese system of karate known as Koei-Kan and received his first-degree black belt in 1987.
In November 1989, Moore opened his first karate school in Lafayette, N.Y., a suburb of Syracuse. During the next two years he split his time teaching between the Cortland and Lafayette locations and traveling to Rochester, N.Y., to further his own training.
In April 1992, he decided to leave Koei-Kan and joined the Genbu-Kai Shito-Ryo karate system, headed by Master (Shihan) Fumio Demura.
As an old-world karate sensei, Master Demura's beliefs, traditions and values are as he directly learned them in Japan many years ago. He is credited with being the first to introduce this style of karate outside mainland Japan when he settled in southern California in 1965, Moore said.
"He is world known and respected for both his knowledge and techniques in karate, along with his Kobudo (Okinawan weapons) knowledge and experience," Moore said, who noted that Demura was  also Pat Morita's stunt double in the original Karate Kid film.
Moore continued his training to include Kobudo, Japanese sword and Aikido. He currently holds the rank of fourth-degree black belt in Genbu-Kai karate, third-degree black belt in Toyama-Ryu Batto, second-degree black belt in Okinawan Kobudo Rengo-Kai and third-degree brown belt in Tomiki Aikido.
He and his wife, Karen, along with their daughter, who recently graduated from high school, moved to Fort Lauderdale in 2003. While here, they were also helping to take care of Moore's parents' home in Royal Palm Beach during the off season. Traveling as often as they did to Palm Beach County led them to consider a permanent move here. In 2004, they made the move. They currently reside in Royal Palm Beach.
The Moores operated a studio in Royal Palm Beach for several years, but the location wasn't ideal, and so when a Wellington property became available, they took it, Karen Moore explained.
Keith Moore continues to operate the two central New York studios, one in Lafayette and one in Endicott, outside of Binghamton, N.Y., although they are both overseen by former students. His Wellington studio, which is located at 13889 Wellington Trace, Suite A-21, has been open for a year and half and has between 30 and 35 students.
"I teach karate close to the way the masters originally taught," Moore said. "In society today, both domestic and social discipline is lacking and very closely watched. However, martial art training is hard, everyone sweats, starts at the bottom and students earn knowledge and rank."
Traditional martial arts can be beneficial to anyone interested in learning, he said. It teaches discipline, perseverance, patience and a sense of well being. Also, it can be a great way to get fit or stay in shape.
Above all, though, Moore stresses having a positive attitude, good manners and trying your best.
For more about Japan Karate-Do Genbu-Kai of Florida, visit www.floridagenbukai.com or call (561) 804-1002.
ABOVE: Keith Moore (back right) with Genbu-Kai black belts.