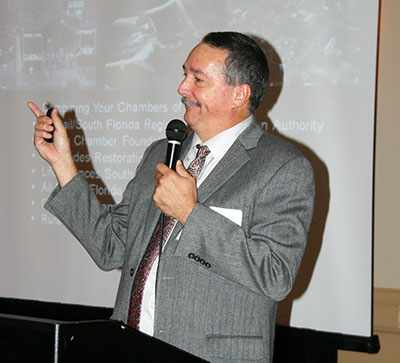 Treasure Coast Regional Planning Council Executive Director Michael Busha and Tourist Development Council Executive Director Glenn Jergensen addressed the future of Palm Beach County at the Central Palm Beach County Chamber of Commerce luncheon Monday at the Binks Forest Golf & Country Club in Wellington.
Busha explained the "Seven50" plan, which is part of the Southeast Florida Regional Partnership, a voluntary collaboration of more than 200 public, private and civic stakeholders in the seven counties of Southeast Florida that have united to leverage resources and coordinate strategic long-term planning to drive competitiveness and prosperity for the region.
Greenacres Mayor Sam Ferreri, who introduced Busha, explained that "Seven50" refers to the seven counties mapping out an economic plan for the next 50 years.
Busha said "Seven50" is a forum to talk about the future, and that the Treasure Coast Regional Planning Council had taken action to get South Florida entities talking with one another, instead of keeping decision making compartmentalized.
"It's important to get involved in this if you're worried at all about the future," Busha said. "How many of you are boundary-crossers? I think all of us are boundary-crossers. In fact, I think most of us understand that the only people interested in boundaries these days are the mapmakers. Frankly, there are no more boundaries. With communications the way they are, how fast things are moving, we need to think about it that way."
Busha noted that the former Palms West and Greater Lake Worth chambers of commerce merging to form the Central Palm Beach County Chamber of Commerce was itself an act of regionalism.
"Tri-Rail runs its trains through three counties," Busha said. "They don't stop and tell everybody from Broward County and Palm Beach County to get off, they keep going."
In addition, he cited the Comprehensive Everglades Restoration Plan.
"Sixteen counties decided it would be a good idea if we took care of the Kissimmee River Valley, Lake Okeechobee and restore the Everglades," he said.
Like the chamber, the Everglades and Tri-Rail, more and more issues are becoming regional in nature.
"Solutions are at the regional scale, and that's where we come to you," Busha said. "When folks come into our office and talk about investing in the region and what's the region like, they're not paying attention to Stuart or West Palm or Port St. Lucie or Boca or Wellington. What they're interested in is how does this region function? It's not about how you view yourself as a region, it's how others see you."
Busha said his office and the "Seven50" program is trying to define three or four projects that everybody in Monroe, Miami-Dade, Broward, Palm Beach, Martin, St. Lucie and Indian River counties are interested in working on together.
"Maybe then when those folks come into my office, we could say, 'Hey look, here's what we're doing together as a region to make this region much more attractive and more competitive.' If you think of South Florida as a big corporation, we would be the fifth-largest in the country," he said.
A draft report on the plan will be released in September, with a second draft in October and a final report in December, followed by a summit to talk about the report. In the meantime, Busha said he will be discussing the report with as many people as possible. More information about the "Seven50" plan is available at www.seven50.org.
Jergensen said the Tourist Development Council provides development and oversight of contractual agreements with agencies including the Palm Beach County Convention & Visitors Bureau, the Palm Beach County Cultural Council, the Palm Beach County Sports Commission, the Palm Beach County Film & Television Commission and the Palm Beach County Convention Center.
"Tourism is one of the largest industries in Palm Beach County," Jergensen said. "I work for Palm Beach County, so Palm Beach County is certainly the organizer of the Tourist Development Council."
He said the mission of the Tourist Development Council is to make the county attractive to visitors from around the world. "They want to come here and enjoy our culture, our amenities and certainly our lifestyle," Jergensen said. "We want to make sure that everything we do generates a return on the investment. We invest about $30 million a year in tourism marketing activities."
As an example of what the council does, he said it works with the Sports Commission to bring sporting events and activities to the area during the summer when hotel occupancy is typically low.
"How do we do that? We do it with other people's money," he said. "There is not one dime of ad valorem taxes that goes into what we do in the Tourist Development Council. All the money is generated through what we call bed taxes."
Bed taxes are currently 5 cents for every dollar spent for hotel or condominium accommodations. "Anything that's less than six months in terms of rental, you should be paying a bed tax, collected by our tax collector and collected by our hotel partners," Jergensen said.
In 2008, just before the recession struck, the council collected $27.8 million. "That was the height of our bed tax collection in Palm Beach County," he said.
It dropped to $22 million in 2009. "We've just started to recover. Right now we are at pre-recession height. In 2012, we finished at $27.8 million, and right now we are headed toward a $30 million year in 2013. Things are recovering for the tourism industry. We are back on track."
Bed taxes started in 1981, when some of the hoteliers got together to figure out a way to market Palm Beach County, and the county established the bed tax.
Of the 5 cents from each dollar, 2 cents is spent on infrastructure, such as building the convention center and Roger Dean Stadium. The remaining 3 cents is used for marketing and promotion, and about $2.5 million per year for beach restoration.
There is an opportunity to raise the bed tax to 6 cents if the county reaches $600 million in sales, or $30 million in bed tax collections, as authorized under the Florida Statutes.
"The opportunities for that are marketing and promotions to bring more visitors here," Jergensen said. "Everyone in this room is impacted somehow by visitors who come to Palm Beach County."
ABOVE: Treasure Coast Regional Planning Council Executive Director Michael Busha explains the importance of regionalism in today's economy.