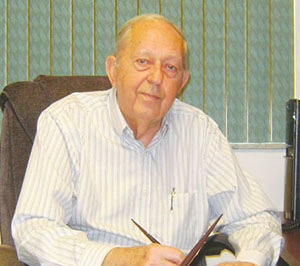 One year after Wellington's senior citizens attained a real voice in village issues with the creation of the Senior Advisory Committee, the panel has made strides in turning attention to issues of importance to older residents.
"I think we have opened up an avenue for seniors and senior-related issues," Committee Chairman Tony Fransetta said. "It has been a gateway for communication and an advisory channel with the Wellington Village Council."
But the committee is still new and will take some time to establish itself, staff liaison Bruce DeLaney said.
"It's still in its infancy," he said. "They are still feeling their way through the establishment of the committee. But I think it has created a venue for issues to be brought forward, which is very important. They have identified senior needs and are trying to gather ideas and resources that will help the community."
Though the committee has met only a handful of times, its members have begun to tackle the big issues — namely, senior housing and transportation.
"Probably the most important issue that has been addressed is the current position of our senior housing and the future direction housing opportunities may take," DeLaney said.
Fransetta agreed. "I think one of the biggest issues we took action on was recommending that the council establish and decide on a location for affordable senior housing," he said. "It has been a goal in the past, both for seniors and the council."
Wellington has seen an exodus of senior residents who go elsewhere to find affordable housing, Fransetta said.
"Too many seniors are leaving because they want to downsize," he said. "Once they have raised their families, they have had to leave Wellington to find something they can afford and maintain. The opportunities haven't been there."
He said the committee has discussed bringing in companies, such as the Elderly Housing Development Corp., which provides senior housing for low-income seniors.
"Some people who raised their families here but didn't have pensions find themselves in the position of having to move out," Fransetta said.
The committee recommended to the council that affordable senior housing be provided near the Mall at Wellington Green, he said.
Another issue the council has considered is transportation for seniors. Wellington does offer a senior transportation program, issuing limited vouchers for taxi service.
"The committee seemed very happy with how that program is coming along," DeLaney said. "It seems to be very well-received throughout the community."
Fransetta commended Wellington for its program, and also for working with Palm Tran to provide rides. "I think Wellington overall has done and is doing a good job in the area of transportation for seniors," he said.
Though these are two of the larger issues facing Wellington, DeLaney said he expects the committee to take on other topics as well.
"As time goes by, I expect various other topics of concern will come forward," he said. "Certainly there will be the opportunity for seniors to address these issues as they arise."
Fransetta said he would like to see the council put more issues before the committee for advisement.
"I'd like to see them refer more things to the committee," he said. "Though, in all fairness, the council has been so wrapped up with other issues."
Fransetta hopes the committee will draw attention to senior issues from the larger community.
"Seventeen percent of the people living in Wellington are seniors," he said. "We have as high as 42 percent of the voting turnout coming from our senior community. It's important senior issues are understood better and given adequate concern."
He noted that Wellington has been preoccupied largely with equestrian issues, but said he hopes to see the community come together and provide input on issues affecting the older population.
"There is more work to be done," Fransetta said. "We've asked the equestrian community and the business community to come forward and bring ideas to the table. I think good things will come about soon, and we hope to be able to channel that through our committee."
ABOVE: Committee Chairman Tony Fransetta.