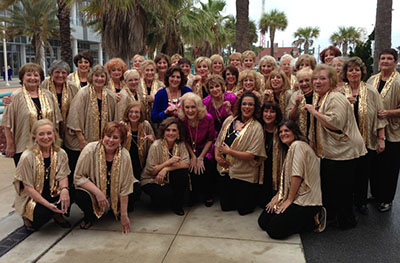 All over the globe, Sweet Adelines International choruses are joining together to teach the world to sing.
The Women of Note Chorus cordially invites women of all ages to an opportunity for free vocal lessons and to explore "Passport to Barbershop" on Sept. 16, 23 and 30 at Palm Beach Central High School (8499 Forest Hill Blvd., Wellington), from 7-10 p.m.
The Women of Note Chorus is a chapter of Sweet Adelines International, an organization of nearly 25,000 women worldwide who sing four-part, a cappella harmony, barbershop style.
The Women of Note share a love of music and pride themselves on performances, presenting their repertoire ranging from Broadway favorites to poignant ballads to vocal jazz, all within the genre of barbershop harmony.
Any woman with singing ability, with or without vocal training, will find a part that fits her voice range with the help of chorus musical leaders and director Mitch Greenberg. As a member, experience the exhilaration of performing, competing and singing with the Women of Note.
The Women of Note Chorus, ensemble and quartets provide the gift of music to thousands of listeners in the Palm Beaches each year.
To learn more about free vocal lessons and exploring "Passport to Barbershop," visit the Women of Note Chorus at www.womenofnote.com or call (877) 966-7464, ext. 2.
ABOVE: The Women of Note Chorus.