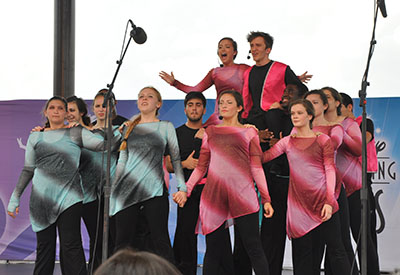 On June 7, 22 of the Second Stage Players from Kim Enright's KWP Productions, all high school and college student performers and Palm Beach County residents, took part in a special Disney Broadway Magic Workshop in Orlando.
Created in partnership with Disney on Broadway, the workshop blends Disney magic into the glitz of live musical theatre. Students perform a number from a Broadway musical and learn about the elements required to bring one together, including music, staging, costuming and props. They performed a piece from Mary Poppins.
Under professional guidance they learned such Broadway tools as:
• The importance of a proper warm-up before any performance or rehearsal.
• Rehearsing choreography by lyrics rather than by counts.
• Focusing on breath control and diction integrated with movement.
• Learning how to make appropriate vocal/acting choices for a musical composition and its lyrics.
• Analyzing what makes a musical different from a play.
• Examining how body language, facial expressions and vocal dynamics are key elements in defining story and character.
• Discovering techniques for quickly learning and remembering movement and lyrics.
• Discussing the roles of director, music director, stage manager, technical crew and choreographer.
• Understanding the purpose of blocking and staging, and learning theater-staging terminology.
The Second Stage Players performed a condensed version of Aladdin for a full house in Downtown Disney on the Waterfront Stage on June 9.
Following the performance, the group got a message of approval from professional Disney performer Matthew Soverns.
Company members who attended the workshop and participated in the performance were: Brittney Anderson (West Palm Beach), Taylor Blount (Royal Palm Beach), Elli Brown (Palm Beach Gardens), Jonah Cabada (Boynton Beach), Jonathan Clarke (West Palm Beach), Jaycie Cohen (Lake Worth), Victoria Devereaux (West Palm Beach), Alfredo Gonzalez (West Palm Beach), Melissa Gonzalez (West Palm Beach), Michelly Gonzalez (West Palm Beach), Lindsey Goodwin (West Palm Beach), Sarah Hardwick (Lake Worth), Jake Howard (Boynton Beach), Taige Mills (West Palm Beach), Donovan Mullings (Boynton Beach), Malley Puc (Palm Beach Gardens), Jonathan Raffoul (Boynton Beach), Alec Ruiz (Wellington), Analisa Ruiz (Wellington), Sophia Tome (West Palm Beach) and Sydney Wolff (Wellington).
KWP Productions, headquartered in Jupiter, is dedicated to inspiring the next generation of performers and theater goers. KWP loves working with young people to create shows for young and old alike. The company strives to teach actors about the craft of acting, as well as the process it takes to create a full-scale production. For more information, call (561) 339-4687.
ABOVE: Jaycie Cohen, Sydney Wolff, Malley Puc, Sarah Hardwick, Jonathan Raffoul, Cara Young, Jonathan Clarke, Lindsey Goodwin and Taylor Blount with Elli Brown and Taige Mills on shoulders during the Aladdin performance.