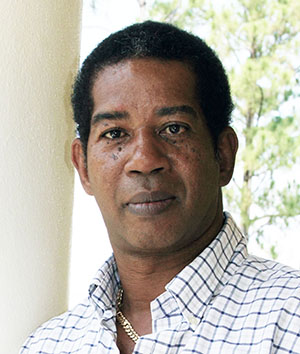 After seven months on the Indian Trail Improvement District Board of Supervisors and the recent resignation of former District Administrator Tanya Quickel, followed by a number of subsequent staff resignations, Supervisor Gary Dunkley told the Town-Crier this week that he is not worried.
"As a new member of the board, I am pleased at the direction we're going in, in terms of putting more focus on rebuilding our infrastructure," Dunkley said Monday. "I'm sorry that Tanya Quickel left, but the administration budget was way, way too high."
Dunkley, who serves as the board's treasurer, early on called for a forensic audit of ITID's books. He said the audit is aimed at no one in particular.
"Since I was the treasurer and I heard certain things that I wasn't sure of, and it is not my money, I have a fiduciary responsibility to make sure that everything was correct," Dunkley said, noting that he seconded the call for an audit originally made by Supervisor Carol Jacobs. "Seven months later, we still don't have a forensic audit."
At a more recent meeting, Dunkley made another motion for a forensic audit, which he hopes will gain traction. "I don't think anything is wrong with the books, but I think that when a new administrator gets in, we should have a level playing field," he said.
As part of the forensic audit, Dunkley said he wants the board to review the function of all the district's departments.
"After the forensic audit, we're going to have an active evaluation of each department to find out their functions and find out what they do so we can make policies that go forward," he said. "We can't make policies on our departments if we don't know what our departments are doing. So, little by little, I just think we are making things realistic. It's rough in the beginning, but the direction that we're going in is a very positive direction."
Although Dunkley does not support Jacobs' advocacy of a weaker administrative position, he does believe the administrative budget is too high.
"The administrative budget was $1.2 million," he said. "I've owned businesses for over 30 years, and I really can't justify why administrative expense is 30 percent of our budget. That doesn't make sense to me. That's what I mean by top-heavy. We really have to dissect each department and understand the responsibilities and functions."
Asked whether he thought Quickel did not share departmental information freely enough with the board, Dunkley reiterated that he was sorry to see her leave.
"Every manager has a different style," he said. "Whether I agreed with her or not, she only had another year in her contract, and I was hoping she would have stayed through the forensic audit. I know the books are all right, but it is to quench everybody's suspicion and gossip so we can just drop all this gossip and move forward. We keep looking back, but we have to go forward."
One of Dunkley's campaign promises in the aftermath of Tropical Storm Isaac was to improve drainage in The Acreage.
"The board is taking a new direction," he said. "We're dealing with rebuilding our infrastructure. We have already started cleaning out the canals. We started with improvements in terms of retrofitting, and we're identifying it. It's not going to be a problem that's solved overnight because our infrastructure has been deteriorating and people haven't been paying attention to it."
Dunkley said canals and drainage should be priorities rather than park improvements, such as a community center at Acreage Community Park.
"Our weather has been becoming more and more extreme," Dunkley said. "I'm not saying we're going to have a terrible flood, but that's a wake-up call that means that we have to pay more attention to our infrastructure. Before, the leadership had a favoritism toward parks."
Dunkley said that the district's nine parks should continue to be maintained but that the drainage infrastructure needs to be improved to protect residents' property.
"People moved out here to have space and have a home, and flooding… threatens all of our homes," he said, explaining that he thinks some of the money allocated for the community center should be put into drainage improvements. "I'm saying divert some of that funding that you want to make the community center, and put it into our infrastructure. I think that our board is going in that proper direction, and I agree with that."
While there was widespread street and yard flooding during Isaac, only one actual home flooded, and that was due to a faulty pad elevation. Nevertheless, Dunkley is very dissatisfied with how the district fared.
"I and many other residents were stuck in our house for seven days," he said. "That is not acceptable. It is expected that we flood, but not for seven days."
He pointed out that The Acreage's elevation is 21 feet compared with Wellington's 14 feet, yet Wellington drained quickly, and The Acreage is listed as a flood zone on the Federal Emergency Management Agency's new flood maps, along with most other areas of the western communities.
"That's going to affect our residents because now they might have to get flood insurance," Dunkley noted.
He added that he hopes that The Acreage's drainage allotment will be increased to more than a quarter-inch per day after Isaac drew attention to the situation.
"Our attorneys, finally for the first time in 20-something years, have an opening that we are going to get increased drainage," Dunkley said.
Many people see Dunkley as aligned on the board with Jacobs and ITID President Jennifer Hager, but he does not agree.
Dunkley said his only alignment is with the people of the community.
"Whatever topics come up, I vote my conscience, and I think it's in the best interest of our community. That's the way I'm voting," he said. "If I was aligned with someone, I would have fired Tanya Quickel at the first meeting. I was the vote that said 'no.' I'm not aligned with anyone; I think for myself."
Dunkley admitted that he had a lot to learn about the job, but said he's doing his best to get up to speed.
"I've been doing all types of research so I can know about the topics and know what I'm talking about," he said.