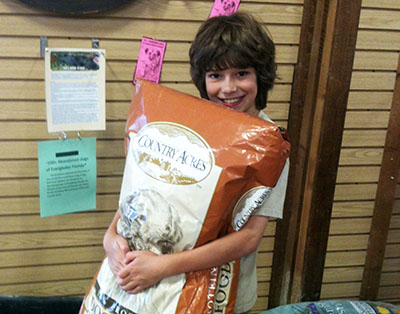 BY ANNE CHECKOSKY
Imagine thousands of abandoned dogs and cats roaming around with no food, water or shelter. Most of them have been dumped by their owners. Some of them are sick. Some are pregnant. All are in need of loving homes.
This is the reality faced by Amy Roman, founder of 100+ Abandoned Dogs of Everglades Florida. Roman and volunteers routinely travel to the Everglades, west of Miami-Dade County, through Homestead, Redlands and Florida City, to rescue these abandoned animals.
Since Sept. 2011, when Roman founded the organization, more than 900 dogs and 40 cats have been rescued. But there are so many more left behind, she said.
"This is just bigger than me now," said Roman, who estimated that she spends about $50,000 per rescue picking up between 20 and 30 animals. Her boarding costs run between $5,000 and $6,000 each month for the animals.
When Darcy Murray, a resident of Loxahatchee Groves, found out about the organization, her first instinct was to reach out and help. But a scheduled adoption didn't work out, and she was unable to accompany the group on a rescue. Then she hit on the idea of holding a dog-food drive that would get much-needed food to the animals left behind.
Roman explained that during the rescues, she and volunteers set up feeding stations with big bowls of food and water for those animals that have to wait until the next rescue can be arranged. It's heartbreaking, but at least the group feels like it is doing something for them, she said.
Murray enlisted the help of Red Barn Feed & Supply, which agreed to serve as the main drop-off point for the dog food. The store also agreed to post signage around the store about the drive and is offering a 15 percent discount to anybody who purchases food for the drive, Murray said. The store donated a bag of food, and its managers are also donating. The drive runs through July 31.
For the last three weeks, Murray has collected 400 pounds, 300 pounds and 380 pounds of food, respectively, which she then loads into her vehicle for a drive to the Summit Boulevard Animal Hospital in West Palm Beach, one of two veterinarian hospitals that treat the abandoned animals. The other is in Fort Lauderdale.
A pet lover herself — she has five horses, three dogs and two cats — Murray couldn't stand the thought of not helping these poor animals. Her sons, Aiden, 8, and Aaron, 5, have also gotten on board with the project, trying to help carry the heavy sacks of food, or at least holding the door open for mom as she totes the bags from the feed store.
Roman is grateful for the support. "It's beyond words what she's doing. It's amazing. This is what we need — the community giving back," she said.
Information about the organization has spread largely through Facebook. "We have 25,000 supporters now because of Facebook," Roman said.
But, she stressed, the organization is always in need of donations and volunteers.
Next up: a CNN crew will head with Roman and her volunteers for a rescue on July 28. She's hoping the national exposure will bring even greater attention to 100+ Abandoned Dogs, although she was quick to praise local media for their support as well. "This is something that has been shoved under the carpet for the last 30 or 40 years," Roman said.
To make a food donation, visit Red Barn at 12948 Okeechobee Blvd. in Loxahatchee Groves. The store is open from 8 a.m. to 6 p.m. Monday through Friday, 9 a.m. to 5 p.m. on Saturday and 10 a.m. to 4 p.m. on Sunday.
To learn more about the group, to volunteer or for adoption information, find them on Facebook at 100+ Abandoned Dogs of Everglades Florida or call Roman at (561) 860-3783.
Learn more online at www.100plusabandoneddogsofevergladesflorida.com.
ABOVE: Aiden Murray, 8, hoists a bag of dog food donated to 100+ Abandoned Dogs. Photo Courtesy Darcy Murray