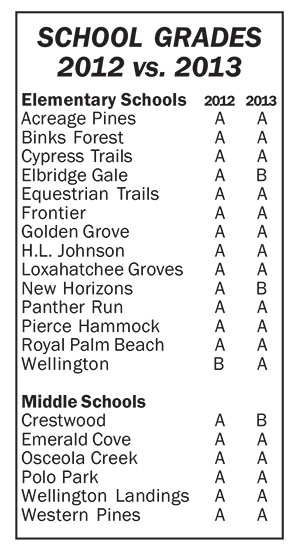 BY ANNE CHECKOSKY
Four of the 20 elementary and middle schools in the western communities saw their school letter grades change this year.
In one instance, the change was an improvement, from a B to an A. But in three other schools, the news wasn't as good. They dropped from A ratings to B ratings.
Wellington Elementary School returned to an A grade this year, after dropping to a B last year, while Elbridge Gale Elementary School, New Horizons Elementary School and Crestwood Middle School each dropped from A to B.
The district released the grades Friday, July 26. High school grades won't be released until the end of the year, district officials said.
Rules changes adopted last year in the way schools are assessed is one reason many schools saw changes in their grades this year, said Frank Rodriguez, the school district's assistant superintendent for quality assurance.
"There were 18 rules changes last year and 13 or 14 this year," added Mark Howard, district director of research, evaluation and assessment.
For example, last year students had to show a proficiency of 3.0 in the writing portion of the Florida Comprehensive Assessment Test (FCAT). This year, that benchmark was upped to 3.5, Rodriguez said. Science achievement levels were also raised.
A new reading threshold was established this year as well, Rodriguez said. If 25 percent of students were shown not reading at grade level, that would cause a school to drop one letter grade.
Meanwhile, the state is in the middle of changing how it assesses school performance. It's currently switching from using the Next Generation Sunshine State Standards to the Common Core Standards. That change won't be fully implemented until 2014-15, Rodriguez said.
In 2012, the state was granted a waiver to the Elementary School Education Act so it could change accountability systems, Howard explained.
Drops in letter grades could have been worse for some schools. On July 16, the Florida Board of Education voted 4-3 to support an emergency rule, suggested by Education Commissioner Tony Bennett, that schools would not drop more than one letter grade in 2013 and through the state's transition to the Common Core Standards. District documents show that Crestwood Middle School was helped by this measure and could have had a grade lower than a B.
The letter grades are important because they are supposed to be reflective of a school's performance, Howard said.
"It's misleading to the public," he said about this year's letter grades.
The action taken by the state board was intended to mitigate any confusion.
Overall, the school district lost its coveted A rating, dropping to a B. After no F-rated schools last year, there were two elementary schools, two charter schools and one alternative school receiving F ratings this year. And the number of A-rated schools dropped by 30 percent this year, from 87 last year to 61 this year.