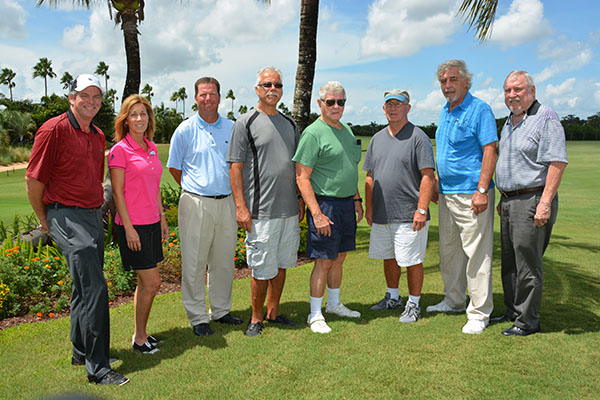 The tournament committee for the third annual Wellington American Legion Chris Reyka Memorial Post 390 Golf Tournament met recently at the Wanderers Club to plan for this year's tournament, which will be held Saturday, Sept. 21 at the club, located at 1900 Aero Club Drive in Wellington.
The event will kick off with a 11:30 a.m. check-in and putting for the dough contest and a continental breakfast, followed by a 1 p.m. shotgun start.
The event, sponsored by Stonewood Grill & Tavern, will feature food, snacks and beverages spread throughout the course. There will also be numerous fun and challenging games and activities on the course, including two hole-in-one contests where players can win a new car donated by Schumacher Auto and a set of custom-fit Taylor Made clubs courtesy of Palm Beach Golf Center.
Immediately following the tournament, there will be a buffet provided by the Wanderers Club, an awards ceremony for the winners, a raffle featuring hundreds of prizes and a silent auction.
The fees are $100 per player and $400 per foursome. There are also sponsorship opportunities available, as well as hole signs advertising businesses for $50 each.
But the real winners of the tournament are the Future Heroes scholarship fund winners, local youth charities, and patriotic and veteran support programs.
For more information, call Ed Portman at (561) 602-4409, John Isola at (561) 795-2721, Mike Pancia at (561) 324-5403 or the Wanderers Club at (561) 795-3501.
ABOVE: The Wanderers Club's Roger Worrell, Tina DeLucca and Jeff Frame; American Legion members Jim Napuli, John Isola, Bob Dugray and Mike Pancia, and tournament coordinator Ed Portman.