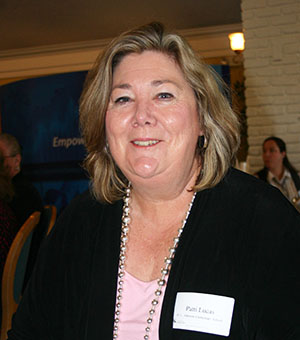 Dr. Patricia Lucas has replaced Sharon Hench as principal at H.L. Johnson Elementary School in Royal Palm Beach.
Hench, who served 11 years as principal at H.L. Johnson, was reassigned to South Olive Elementary School in West Palm Beach.
Lucas comes from Greenacres Elementary School after seven years there as principal. She also lives in Greenacres. She said H.L. Johnson will be a new challenge.
"I'm looking forward to it," she told the Town-Crier on Tuesday. "I was at Lighthouse and Beacon Cove up in Jupiter as a teacher for many years, and then I was an assistant principal at Jupiter Middle School for four years before I became principal at Greenacres, so it's good to have a wide variety of experiences."
What she has seen thus far at H.L. Johnson has left a great impression.
"The staff at H.L. Johnson is just fabulous," Lucas said. "I'm really looking forward to that. It's hard to leave someplace where you worked with a great staff, but change is good."
Her goal for H.L. Johnson is to move the school into the Common Core curriculum being implemented statewide, which will involve many changes.
"I think that's going to be a huge challenge for all of us," Lucas said. "H.L. Johnson has been a leader in student achievement, and I would like to see them continue that into adopting Common Core, embracing that and helping students continue to succeed at a different level."
She said all principals have had extensive training in Common Core for the past couple of years. She attended a four-day Common Core workshop this summer.
"I'm not an expert, but I feel like I have a very good grasp of what that's going to entail," Lucas said. "It's a big change. It's a different way of teaching and a different way of thinking. We're really asking kids to think more creatively, to really analyze problems. It's not like a black-and-white, true-false answer now. You have to explain your thinking. It will be a challenge, but I know the teachers are embracing that, and they're ready to go."
Lucas, who has been with the school district for 22 years, graduated from high school in Venezuela and received her bachelor's degree from Fairfield University in Connecticut. She was living in the Boston area when she applied for a teaching position in Palm Beach County.
"I went to a job fair, I think it was 22 years ago at the Park Plaza Hotel, and signed a contract and moved down," she recalled. "It was snowing in April. I remember that. It's a nice place to visit."
She later received a master's degree in educational leadership from Florida Atlantic University and earned her doctorate from Nova Southeastern University in educational leadership and curriculum.
Lucas has three grown children who all graduated from Palm Beach County schools. "My youngest son is in his senior year at New College of Florida in Sarasota, my oldest daughter is a policy analyst in D.C. and my middle daughter is a financial analyst in New York City," she said. "They're all grown and gone."
ABOVE: Dr. Patricia Lucas