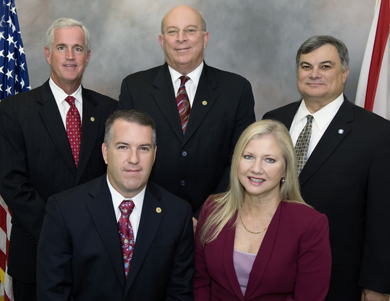 Concerned about Wellington's portrayal in the media, members of the Wellington Village Council discussed Tuesday whether the village should publish its own news releases regarding certain issues, and whether a policy would be needed to guide staff in drafting those announcements.
The question arose after village staff issued a news release last month at the urging of some council members about the outcome — in Wellington's favor — of litigation regarding the controversial Equestrian Village site.
"There has been a question of the necessity for a policy that would provide guidance to staff on future press releases that deal with litigation or matters that are actively being considered by the council," Village Manager Paul Schofield said.
Vice Mayor Howard Coates was concerned that staff had consulted council members before issuing the release.
"The problem I have is with the process that was followed," he said. "I had a problem that [Schofield] felt the need to vet the draft of the press release with each of the council members. My concern is that he feels he has to go to the council to get approval before sending it out. That is awfully close to seeking a vote or consensus… for what he is doing."
Coates noted that Schofield has the authority to issue news releases without consulting the council. "But when he exercises that authority, in part based on the input he gets from council members, I think then you're at the point where you're essentially doing something that would require a council vote," Coates said. "Had he sent this press release without coming to any of the council members, I wouldn't be saying this."
He suggested that if staff needed input from council members on a news release, it should be raised at a public meeting.
Councilman John Greene said he had asked for an announcement providing residents with information about the litigation, something he did not believe the media was doing.
"I didn't ask for any specific wording or content of that press release," he said. "I did not edit it. I trust the information was what Mr. Schofield felt was appropriate. I think members of this community need to hear the entire story, because that story is not being told."
Councilwoman Anne Gerwig thought the council should discuss the content of the releases in public if they were going to appear to represent the council's view.
"I don't think that one member of the council should be directing the manager when it comes to anything regarding the litigation," she said. "Even though we may want to tell the story our way, our press releases should not come from this five-headed panel, unless we have a discussion and decide what that version should say."
But Greene said it was an issue of getting the facts out to the public.
"The facts are the facts," he said. "Putting out a press release that says 'these are the facts' is not an interpretation. It's not an opinion from anyone on this council."
He reiterated that he believes the news media were not publishing the full story.
"The media decide what facts they want to put into their stories or their editorial columns," he said. "People have an agenda. They can spin it however they want. They can write whatever they want, but we have an opportunity to at least let the people of this community know the truth."
But Gerwig said the media would still do what they wish with that information.
"We're not the press," she said. "They are going to print what they want out of it. We're never going to own the press."
Greene agreed. "That's right," he said. "Someone else does [own them]."
Councilman Matt Willhite said he did not believe the council needed a policy regarding news releases, but felt that getting information out was a good thing.
"I think the idea was that many of our residents call us, e-mail us and come up here with concerns about the amount of money this village is spending on litigation," he said. "What this proved is that we are in a defensible position. The court system sided with us. Hopefully our residents see that we made the right decision for this village."
But Gerwig noted Wellington had not published similar news releases about litigation in favor of Wellington's position.
"We were found to be correct in other matters on this same site, and no one pushed to release a press release about it," she said. "That's why I think the status quo [not issuing a news release] was appropriate. The press has access to the information that is out there. If they want to do a story on it, they can go get the court papers."
Wellington Mayor Bob Margolis asked Village Attorney Laurie Cohen whether she had any concerns that the information in the news release could have jeopardized the village's legal position.
"No," she said. "I was never concerned there would be any impact to our settlement in litigation."
Margolis said he didn't think a policy was needed.
"I feel fully confident in Mr. Schofield," he said. "I understand this one was of a sensitive nature because of the litigation, but I don't think we need a policy."
He echoed Greene's concerns about the information being released by the media.
"I feel very frustrated that we don't have an opportunity or a vehicle to tell our residents… about the litigation," Margolis said. "We don't have a newspaper. The only thing we have in our village is either on the dais or through the village. We don't have the ability to refute what is written. And I hope what's written is vetted by their legal department."
Cohen said she believed the consensus of the council was not to draft a policy governing news releases but, rather, to bring items of a sensitive nature before the council for discussion.
"I think we've gotten the message that if we're dealing with an issue as sensitive as this issue, it would be something we would bring before you," she said.
Council members agreed.
ABOVE: The Wellington Village Council.