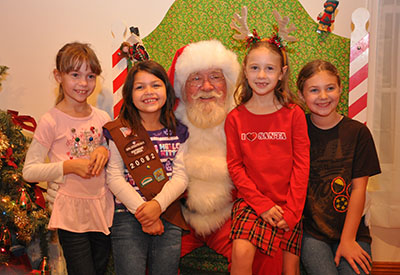 BY ANNE CHECKOSKY
There won't be any ice skating, hot chocolate sipping or touring decorated buildings at the South Florida Fair's Yesteryear Village come Christmas time. "Christmas in Yesteryear Village" has been cancelled for this year.
It was a business decision, said South Florida Fair Chief Operating Officer Vicki Chouris. "It just wasn't cost-effective," she explained.
While the emphasis at Yesteryear Village — a history park on the South Florida Fairgrounds campus, showcasing buildings and artifacts from the 1890s to the 1940s — is on old-fashioned fun for families, there are just too many other competing events during the holiday season that are free, Chouris said.
There are plenty of neighborhoods that feature extensive decorations, plus mall displays and other outdoor events, all available at no charge. "At the holidays, there are so many opportunities for families to view decorations," she said.
Yesteryear Village charged $10 admission for its Christmas event last year. Children 2 and under were admitted free, and those who purchased advance-sale fair tickets at area Publix supermarkets got a free child ticket for the Christmas event.
"It hasn't been working for the last few years," Chouris said.
It's also tough on fair workers and volunteers to put on Christmas at Yesteryear Village a mere three weeks before the fair begins, Chouris noted.
The 2013 Florida Fair ran from Jan. 18 to Feb. 3. The 2014 event runs from Jan. 17 to Feb. 2. "We have limited staff, and our volunteers are stretched," she said.
Volunteers were saddened to learn of the cancellation.
"We're disappointed," said Karen Schmitt of Schmitt's Pony Ranch in Lake Worth, which rents ponies for events. Schmitt has been volunteering at Yesteryear Village for 20 years.
Schmitt and her husband, Bruce, a fair director, usually bring their ponies to the village for events such as Christmas in Yesteryear Village, the Sweet Corn Fiesta and the Halloween-themed event Spookyville, she said.
"It gives the kids something to do," she said of the pony rides.
They charge a nominal fee, just $2 per rider, so they're doing it more for the children than to make money, she added.
"It's just a fun, old-timey thing," Schmitt said, in keeping with the theme of Yesteryear Village, which seeks to preserve and promote local history.
As chair of the sewing circle at Yesteryear Village, Schmitt said she was always involved with the Christmas celebration, decorating and preparing her building for onlookers.
There has always been some type of Christmas event there, she said, adding she hopes that people will miss it this year and want to bring it back for next year.
One suggestion she had about reviving the Christmas event is to make it more like Spookyville.
"There's more to do [at Spookyville] for the money. If they can figure out how to do that with Christmas, I think they can be successful," Schmitt said.
Spookyville will run this year from Oct. 18-20, Oct. 25-27 and Oct. 31. Kids 12 and under can trick-or-treat on all of those nights, plus there will be rides, games and spooky arts and crafts. Admission is $7.
Chouris wouldn't rule out staging Christmas at Yesteryear should a generous donor come forward, but she isn't expecting that to happen, either. "We'd consider it," she said of an offer to underwrite the event.
Christmas in Yesteryear Village was held over two weekends in December last year and featured free ice skating, a cookie contest, Starz of the Future auditions, caroling, a 30-foot Christmas tree and a synchronized light show.
Chouris said there's another event in the works planned for three weeks after the fair, but because it's a work in progress, she couldn't give further details at this time.
For more on Yesteryear Village, visit www.southfloridafair.com and click on the Yesteryear Village tab, or call (561) 793-0333.
ABOVE: Samantha Sturgill, Sara Ornelas Hannah Bentrim and Emma Dunn from RPB's Brownie Troop 20082 at last year's Christmas celebration at Yesteryear Village.