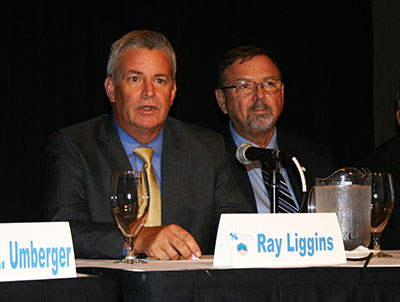 Representatives of Wellington, Royal Palm Beach, Loxahatchee Groves and the Indian Trail Improvement District were among nine managers and administrators speaking at the Central Palm Beach County Chamber of Commerce's State of the Cities luncheon Tuesday at the Palm Beach County Convention Center.
Wellington Assistant Village Manager John Bonde noted that Wellington was the first master-planned community in the county, and he believes it turned out well.
"It has changed, and we think that it's changing for the better," he said. "It's bigger than it used to be," Bonde said. "We're now at about 57,000 people. I remember when it was 1,500 people."
He said the cornerstones for the future of Wellington are to protect its investments, respect the environment, promote sustainable economic development and provide responsive customer service to residents and those who do business with Wellington.
Bonde said Wellington has narrowed its service model to "core" services that must be provided that are either statutorily mandated or necessary, such as police protection, and "more" services such as recreation. "We're not the typical government," he said. "Sometimes you can use better tools to do the job. In the case of some governments, a bigger approach is not necessarily the best approach. I think you can get a lot more done with less."
Wellington, like every entity in the county, suffered through a prolonged economic downturn, and as a result, the village changed its model of government to reduce the budget, including reducing the number of employees through attrition.
"One of the things we have to realize, and I think that our council has been very good about, is understanding that it's not just a vision of what you want, but what are people willing to pay for," Bonde said.
He said Wellington has great neighborhoods, great schools and great parks.
"We work with the chamber, actually two chambers, and we look to the business community to kind of give us guidance on what they need from us as government," Bonde said.
He noted that total property value, which was at $7.76 billion in 2008, dropped to a low of $5.32 billion in 2011. "The good news is that since 2012, we've seen little, incremental steps toward increasing the property value," Bonde said. "The message to government is it's going to be a slow, steady recovery. We're going to walk our steps very carefully as we move forward."
Some of the village's recent accomplishments include more than $13 million in capital improvements, the biggest chunk for roads and drainage and the second biggest for parks. "That's pretty significant for a village of our size," he said.
The village also partnered with the Boys & Girls Clubs of Palm Beach County to build a new facility, improved its Village Park recreational facilities and improved its reclaimed-water facility.
"Next year, we're going to do $15 million of work — again, even more money invested," he said. "For you as business people that's very important, because we think where we invest, you will invest."
Royal Palm Beach Village Manager Ray Liggins said the biggest recent accomplishment of his village was to establish a strategic planning process with participation by residents to help with the preparation of each year's budget and come up with a clear vision of Royal Palm Beach's mission and goals.
On the economic development front, Liggins was proud that the village had attracted Aldi grocery stores' new regional distribution center to an undeveloped 70-acre tract west of State Road 7 and south of Okeechobee Blvd., which Liggins pointed out was a joint effort with the Business Development Board, Florida Power & Light, Palm Beach County, the chamber and others.
Another accomplishment was the opening of the 160-acre Commons Park, which is now the site for the village's major events.
The village survived the economic downturn with no property tax rate increases. "One of the things the recession made very clear to all of us was that when the business community is doing well, government usually does well," Liggins said. "When the business community is not prospering, providing basic services becomes quite a challenge. We are in this together."
He said 2014 will be the first year that Royal Palm Beach will spend more on contract services than on staff-provided services. "That's one way that we kept expenditures down without cutting services," Liggins explained.
The community weathered the downturn without huge corrections in its budget through the establishment of a five-year plan. "We established a five-year financial strategy," he said. "We looked at expenditures and ways of keeping them to a minimum or reducing them."
The village also eyed potential development of private and public lands. "We realized that we had quite a bit of assets when it comes to some of our lands that are now on the tax roll that we didn't see any future public need for," he said.
Future challenges include assuring that Royal Palm Beach continues to be a place that residents want to call home. He pointed out that 90 percent of the village's residential space is developed, while only 40 percent of its non-residential space remains to be developed.
"We know that 75 percent of a business's decision to locate is based on location, infrastructure and available workforce," Liggins said. "We know we can't do this alone. I think we have great partner here in Palm Beach County."
He noted that the village has adopted the countywide expedited approval process initiated by the Business Development Board, and the countywide building permit application. "It is our goal to make this as simple as possible," Liggins said.
Loxahatchee Groves Town Manager Mark Kutney said the town, now in its seventh year of existence, is managed by a private contractor, for whom he works.
"We believe this is a trend that is going to continue with rising health costs, pension costs and all the costs across the board that municipalities face, as well as challenges on the revenue side. There will be more outsourcing at the local government level," Kutney said.
Loxahatchee Groves, which has a population of 3,185 over 12.15 square miles, has a "government lite" philosophy.
"That was the way they wanted to proceed, no full- or part-time employees," Kutney said. "That is why we have a management company, only contractual services across the board."
Most services are handled on a cost recovery basis, including code enforcement, which is driven by complaints. The town is concerned with keeping its rural character, which includes environmental protection and preservation, lifestyle protection, minimal governmental intervention and control of its own destiny.
Achievements this year include moving forward with several public works functions, including a renewed contract with its solid waste haulers, contracts for road repair, emergency callouts, road grading and filling for unpaved roads, removal of vegetation and mowing of town roadways.
The town adopted amendments to its comprehensive plan to allow the development of Palm Beach State College's fifth campus, and recently overcame a referendum effort to overturn the campus approval.
Kutney said that effort not only put the college on hold but delayed development of two commercial centers now underway along Southern Blvd.
The town is working with the Florida Department of Transportation to change the location of stormwater ponds along Southern Blvd. that stand to disrupt the development of the town's planned commercial base.
Communications have improved between the town and the Loxahatchee Groves Water Control District, and the two entities have successfully transferred ownership of recently paved district roads to the town, which has more statutory control, Kutney said.
Loxahatchee Groves has joined with other municipalities in the county to challenge recently published Federal Emergency Management Agency flood maps that stand to raise property flood insurance rates, and is fighting the downward spiral of property values.
"Our town was one of four municipalities that lost property value [this year]," Kutney said. "We believe that this was due to the fact that we haven't been able to have construction we were looking for in the last year, and the fact that we are doing a lot of agricultural exemptions."
Indian Trail Improvement District Acting Director of Administrative Services Sandra Love-Semande said water control has become the primary function of the district, although it does have other powers.
"We have nine parks that we maintain," Love-Semande said. "Our current focus is drainage. We're going back to our grass roots. We had terrible flooding. Last year we dealt with Tropical Storm Isaac, and our supervisors have made that our main focus going forward in the district."
She said plans for a recreation center have been put on hold so the district can focus its budget toward drainage repair.
Love-Semande added that ITID has kept the budget about the same as the previous year, at under $12 million, with an approximate 1 percent increase.
"Our district is above water right now, so we are doing very well," she said.
ABOVE: Royal Palm Beach Village Manager Ray Liggins speaks as Wellington Assistant Village Manager John Bonde looks on at Tuesday's Central Palm Beach County Chamber of Commerce luncheon.