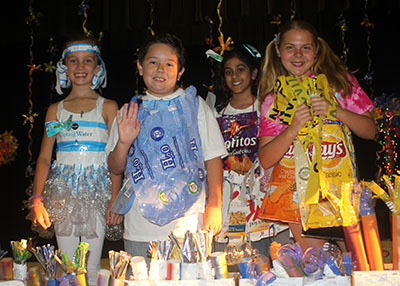 BY ANNE CHECKOSKY
A local music teacher received national recognition last month for a production she helped plan and put together to help kids learn about nutrition and recycling.
Estibaliz Gastesi, music teacher at Golden Grove Elementary School in The Acreage, came up with the idea of having the choir — made up of third- to fifth-grade students — join first- and third-grade students at her school perform a show based on a nutrition program the Palm Beach County School District rolled out last year.
The district introduced the "OrganWise Guys" to all elementary schools in 2011-12. It is part of a national program that uses 10 characters to teach children about how to be healthy and smart from the inside out.
The 10 characters are: Sid and Kid the Kidney Brothers, Sir Rebrum, Pepto, Peri Stolic, Windy, Hardy Heart, Madame Muscle, Calci M. Bone, Peter Pancreas and Luigi Liver. Their motto is: "We love who we live in, so please take care of us."
The organization started by performing at assemblies in elementary schools throughout Georgia in 1993. Now OrganWise Guys is in more than 5,000 schools in 20 states. It has a monthly national e-newsletter, The OWG News, that goes out to subscribers. The July edition included a story on Gastesi and Golden Grove.
Gastesi hit on the idea of creating a show after seeing the OrganWise Guys posters in her school cafeteria. Songs from the organization's CD were used, and different activities from art, physical education and the cafeteria were integrated into the performance.
The school used recycled materials from trash for the costumes, such as plastic bags from Target, which represented the heart, and chip bags and cereal boxes, which represented the intestines, Gastesi said. All the trash came from the school's teachers and students.
"Everybody talks about recycling, but nobody knows what it is. I think they really got the idea," she said of the students, adding that this had a much greater impact than placing a bottle in a blue bin.
The students practiced starting in February for the May performance. As show day approached, they amped up the practices to once a day for an hour.
"It was such a hoot, and the kids had a blast," said Karen DeSantis, a Golden Grove volunteer.
In addition, Gastesi invited local farmers to come to the performance with fruits and vegetables to share with the school and audience. "We got so many donations," she said.
There were free samples for everyone, and there were more than 300 kids in the cafeteria.
The donations also underscored the importance of the idea of eating right. Instead of cookies, candy and sugary drinks, the kids were presented with tables of fresh fruits and vegetables, Gastesi explained.
The performance, which also included poems, lasted about 40 minutes. It was so successful that Gastesi hopes to repeat the idea in future years.
As for the national recognition, Gastesi — who has a doctorate in piano performance and has taught for 14 years — said she was very surprised.
And this coming school year, Golden Grove is going all-green, so there's no telling what the school's music teacher might come up with to promote that.
ABOVE: Students dressed in recycled materials for the show.