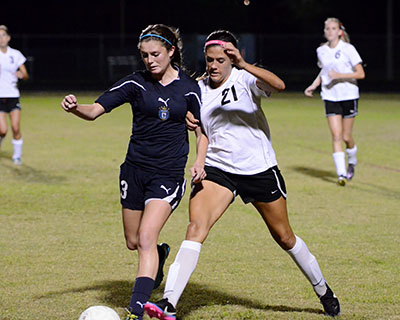 BY GENE NARDI
Palm Beach Central High School senior soccer player Amanda Torres has verbally committed to play for Lynn University upon graduation in 2014.
Torres still has her senior year of soccer to play for the Broncos. She helped lead the team last season to a district and regional championship, where they upset nationally ranked, two-time state champions St. Thomas Aquinas High School in a penalty kick shootout to win the school's first regional title.
Torres impressed the Fighting Knights coaching staff while being scouted during a club game. Torres also plays for FC Delray under the direction of coach Steve Burgess. FC Delray has since merged with FC Florida, and Torres continues to play for the team under Burgess.
It was then that Torres knew she wanted to attend Lynn University to play soccer and study biology. "It's closer to home than Nova Southeastern and St. Leo, and my parents can come to the home games and see me play," she said.
Nova and St. Leo were the other schools interested in Torres.
Torres has been playing soccer since middle school. In her eighth-grade year, she was cut during tryouts and did not make the team. New motivation sparked her to pursue the challenge and make herself a better soccer player going into high school.
"After I played in seventh grade and didn't make the team the next year, I was so motivated to improve my skills," Torres said.
Torres made the varsity squad for the Broncos in her freshman year, and has played varsity throughout, tallying 30 goals and 19 assists. She was moved from forward to defender by Broncos coach Tom Dawkins due to her speed and ability to shut down attacks.
Torres may also line up as an outside midfielder in her senior year. Her success on the field has created a new passion for the game and the desire to play at the next level.
Torres has spent her summer training, playing indoor soccer and attending camps. She has also done some cross-fit training to improve her strength and endurance.
Torres maintains a 3.5 GPA in the classroom, taking Advanced Placement and honors classes. She also has a dream to play for the Puerto Rican National Team, but realizes she has one more year to focus on in high school to try and lead the Broncos to another district championship and a run at the school's first state title.
Torres maintains an optimistic and confident demeanor on her team's potential, which makes her an inspiration to many on and off the field.
ABOVE: Amanda Torres (right) breaks up a play against St. Thomas Aquinas.