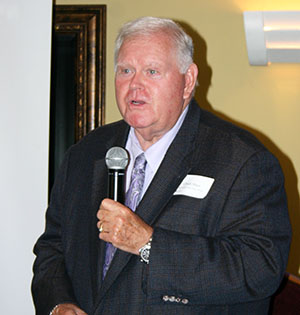 Chuck Shaw, chairman of the Palm Beach County School Board, was the featured speaker at the Central Palm Beach County Chamber of Commerce Principals' Breakfast held Tuesday at the Atlantis Country Club.
Shaw, who has worked as a principal himself, said now is a special time when the principals are spending the last few weeks of summer break getting ready for the return of the teachers and students.
"There's no way this morning that I can even begin to share my experience and appreciation for the principals who are in this room," Shaw said. "I have worked with so many of the principals here, and the commitment that the principals have to the children in this county is unbelievable. They're not just the instructional leaders in their schools, but the principals are there to support their teachers and, most importantly, to support the children."
The School District of Palm Beach County will open this school year Aug. 19 with about 187,000 students. "We are one of the largest school districts in the entire country," Shaw noted.
In May, the district graduated almost 11,000 students. Those receiving scholarships accumulated almost $100 million to further their education. "That's an amazing amount and an amazing accomplishment for our children," Shaw said.
For the first time in several years, the school district is opening without a looming financial crisis. He thanked the Florida Legislature for the additional monetary assistance.
"We're opening school with a lot easier effort to balance our budget, and that is significant because of all the stresses that are put on principals, teachers and district staff to be able to open school when you're facing budget cuts and all of those kinds of issues," Shaw said.
There are still plenty of challenges, though, he added, primarily due to growth, changing lifestyles and increasing diversity in the county.
"In the areas west of town, there's tremendous growth," he said. "We also have the impact of changing demographics. When I went to school in Palm Beach County, it's not the same as it was back then."
Shaw said today's principals and teachers have a wide array of challenges to address.
"We have some stability that we haven't had in a while in the budget," he said. "We're in a position where we will be implementing the changing picture of testing and FCAT and transition and Common Core, and all of those things make it really tough, because so much of it we have no control over."
He stressed that schools need the support and help of the business community in order to thrive.
"If there's any effort you can make on the part of your business to help partner, choose any of the schools in this county and offer your help," Shaw said, adding that reading to kids is rewarding to both readers and students. "It really is a fun and interesting experience. All you need is 15 minutes."
He also recommended being supportive to employees who are parents.
"If one of your employees wants to go to school to attend a special program, let them go," Shaw said. "Our children are too important to ever miss any opportunity to stand up and support our kids. As chairman of the school board, but also as someone who has been in education for a long, long time, I say support our children, be there, support our teachers, give them the support they need, give them the praise and wish us the best as we deal with all the complexities of what life is today in Palm Beach County."
Shaw was born in Martinsburg, W.Va., and moved to South Florida at age 5. He was educated in Palm Beach County, attending Palmetto, South Olive, Palm Springs and Meadow Park elementary schools. He graduated from Forest Hill High School in 1966 and attended Palm Beach Junior College and Florida Atlantic University, where he received his bachelor's and master's degrees.
Shaw began his education career at Berkshire Elementary School in 1970. His first assignment as an administrator was assistant principal at North Grade Elementary School, and he was named principal at Westward Elementary School two years later. He also served as principal at Northboro and Liberty Park elementary schools and Okeeheelee Middle School.
At the district level, he has served as area superintendent, department head and director of government relations. Shaw was also a leader in developing sports programs and coaching, spending almost 45 years in coaching and sports administration. In 2006, he was inducted into the Palm Beach County Sports Hall of Fame.
Shaw's community involvement also included 18 years as councilman and deputy mayor of Greenacres. He was elected to the school board in 2010.
ABOVE: School Board Chair Chuck Shaw speaks at Monday's breakfast.