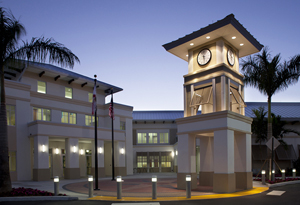 Some of Wellington's departments could be going back to a five-day workweek as part of an effort to provide better customer service for residents on Friday. At a budget workshop Monday, members of the Wellington Village Council asked staff to look into the cost of moving some departments back to working five days.
Wellington enacted a four-day workweek three years ago as an effort to curb costs. It was largely successful, but some council members remain concerned that residents can't get needed help on Fridays.
"Do you have any opinion whether customer service would be improved by going back to five days?" Vice Mayor Howard Coates asked.
Village Manager Paul Schofield said he hadn't heard many complaints but was considering it.
"Going back to a five-day workweek has been an item of serious discussion among the management team," he said. "Should the council desire, we are prepared to take elements of the village back to a five-day workweek."
Coates said that in the private sector, it's common to use Fridays to go for permits or other tasks outside the office.
"I don't hear it a lot, but occasionally I hear grumblings from residents," he said. "I know there is some discontent that we are not open for customer service on Fridays."
Schofield said one option was to have customer service open on Fridays, but stagger the employees' work schedules so they work only four days, but have different days off.
This would also allow the village to keep customer service open later hours, he said.
"The problem with a traditional five-day workweek is we find our residents like the ability to be here between 5 and 8 p.m.," Schofield said. "We are considering being open five days, but keeping employees on a four-day workweek."
Councilwoman Anne Gerwig said she thought that could be a good compromise.
"I've seen people here on Fridays trying to come in," she said. "I get complaints from residents that they can't even get in the door. But they also really like those extended evening hours. If we can vary people's days off so customer service is open late and open Monday through Friday, I think that would be the ultimate compromise for residents."
Schofield said there has been discussion of moving some departments back to a five-day workweek, but others benefited from working four extended-hour days.
"There are certain parts of the village that I would not recommend we ever take back to a five-day workweek," he said.
Among these are utility field workers and public works crews, who are able to get more field time and more accomplished in four days than they could in five.
"We get more out of them in a four-day workweek, principally because we eliminate 20 percent of their mobilization and demobilization," Schofield said.
It also allows the crews to focus on and finish projects as they crop up, rather than having to delay them for a day.
"If they are coming in at 7:30 a.m. and leaving at 3:30 p.m., and a project crops up in the afternoon, they generally aren't able to start it until the next day," he said. "We find that when these things happen now, we have plenty of time to get them done before 5:30 or 6 p.m."
Coates asked what the savings were by moving to a four-day workweek. Schofield said it was about $600,000. "Do those savings still hold true?" Coates asked, and Schofield said they did.
Schofield said he would have staff investigate the cost of having the village at least partially open on Fridays.
In other business, Wellington might double its expenditures on lobbyists this year. Schofield said that several national issues mean Wellington needs a voice both in Tallahassee and Washington, D.C.
"We anticipate a larger role for our lobbyists," he said. "Hopefully we won't use it all, but it's budgeted."
Coates asked how much Wellington has historically spent on lobbying, and Schofield said it was between $75,000 and $80,000 a year.
"We're doubling that," Coates said.
But Wellington has spent as much as $200,000 a year lobbying at the federal level in the past, Schofield said.
Council members are expected to discuss hiring a new lobbying firm next month.
"The cost will depend on who we choose," Gerwig noted.
One of the largest issues that would affect Wellington is the release of new flood maps created by the Federal Emergency Management Agency, Schofield said.
"They take most of Wellington, that is not currently in a flood zone, and turn it into a flood zone," Schofield explained. "Every homeowner will have to buy flood insurance. That policy cost alone will be close to $13 million."
But Gerwig pointed out that other organizations, such as the Western Communities Council and the Florida League of Cities, will also be lobbying on the issue.
Schofield said he thinks it's important that Wellington have its own presence.
"I've been told you cannot abandon individual efforts with the federal government," he said.
Coates said he wasn't sure lobbying would be valuable to Wellington. "I will have to be persuaded of the value realized from these expenditures," he said. "These people they are supposed to be lobbying only have so much time in their day. They will be getting hit by [other organizations] on the same issue."
But Mayor Bob Margolis said having good lobbyists was key to helping Wellington alleviate its water-quality woes several years ago. "I really think the village benefited by having a lobbyist when we were having water-quality concerns," he said. "They brought back dollars for [the Wellington Environmental Preserve], and it was imperative that we had lobbyists in both Tallahassee and D.C. getting our feelings known."
Schofield noted that Wellington faces a similar issue with new Environmental Protection Agency standards for water quality that could affect how the village manages water.
Public hearings on final adoption of the proposed Wellington budget and tax rates will take place in September, when the council will make its final decisions.