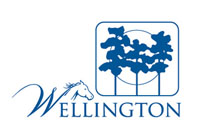 Members of the Wellington Equestrian Preserve Committee decided Wednesday to postpone a recommendation that could make veterinary offices a permitted use in certain parts of the Wellington Equestrian Preserve Area.
Committee members wanted a second look at the ordinance with amended language to set standards for the clinics — including allowing only equine veterinary clinics as a permitted use — before sending the item to Wellington's Planning, Zoning & Adjustment Board.
The petition was brought by Palm Beach Equine Clinic and would change the master plan to make veterinary clinics a permitted use in sub-area D of the Equestrian Preserve Area, which stretches from Lake Worth Road north to Pierson Road and from 120th Avenue South west to Palm Beach Point.
Palm Beach Equine Clinic President Scott Swerdlin said he was trying to get the allowed use so he could fix up and expand the clinic, noting that he has had troubles under the current zoning.
"We've been in the same location since 1983," Swerdlin said. "Up until recently, we could just go into the village and ask for an application for development. In 2006, the hurricane tore down a bunch of stalls, and when we went to submit a permit, we found it was going to be more complicated."
Because of the weak economy, Swerdlin said he decided to wait to replace the stalls. Then, in 2010, when he looked into it again, he found his property exceeded the allowed floor area ratio and was now an illegal use.
We were a non-conforming use," he said. "Everything had been fine since 1983."
Swerdlin said one option was to come in for a commercial recreation zoning, but he noted there was abundance of that in the area.
"We didn't feel [the Wellington Village Council] would be comfortable taking an additional 30 acres and converting it to commercial recreation," he said. "The next best thing was a zoning text amendment."
Committee Chair Cynthia Gardner asked whether the change would allow for a veterinarian's clinic in barns in communities such as Mallet Hill.
Growth Management Director Bob Basehart said that was unlikely.
"It would have to go through the same approvals as a conditional use," he said. "It would have to go through Wellington staff, then this board, to PZAB and ultimately to the council for final approval."
Swerdlin also said the communities have homeowners' associations that do not allow for new commercial development.
"Could they set up a vet clinic in the stable?" Gardner asked.
Swerdlin said some practices, such as having liquid bags hanging in stalls for medications, were common, but that it was unlikely someone could run a clinic out of a residential barn. "Are they going to do surgery in the garage? No," he said.
Attorney Janna Lhota, representing resident Victoria McCullough, said the process could be achieved with a conditional-use permit rather than a master plan amendment.
"We have no issue with the existing equine clinic or its plans for expansion," Lhota said. "However, we do have a problem with why a zoning text amendment is being proposed to allow veterinary clinics as a permitted use… within a residential pod, rather than address the specific issue with this property."
Lhota said the changes would affect only Palm Beach Equine Clinic, making it a site-specific issue that would be addressed with a legislative action.
She was also concerned about past incidents when master plan amendments were approved by the Development Review Committee without going before any other boards or the council.
"This property is one of them," Lhota said. "I would recommend that this specifically require review by this board as well as PZAB and the council."
Lhota added that there needed to be more guidelines for clinics, because the only requirements in Wellington's code for veterinary clinics now require 5 acres of land and buffers.
"Other than that, there's nothing else," she said. "We would recommend that there would be specific standards enumerated for [new] clinics in sub-area D."
Ultimately, Lhota said Wellington would have more control of these issues with a conditional-use permit.
But Basehart said a zoning text amendment would give council members more control over the issue for future vet clinics, should someone want to open a new facility in the area.
"You're safer with the master plan amendment," he said. "Unless you can make specific findings that approval [of a clinic] would have detrimental effects, you would not have the ability to not approve a conditional use."
Village Attorney Laurie Cohen agreed.
"If [the applicant] meets the conditions for a conditional-use permit, you have to approve it," she said. "With the master plan, you have to factor in other things."
Gardner asked whether Wellington could require both the master plan amendment and the conditional-use permit, but Basehart said that would be a duplication.
"You would go through the same process and before the same boards," he said. "There is no reason to require a master plan amendment and a conditional use."
Gardner asked whether clinics could be limited to equine only, and Basehart said it could be included in the recommendation. Gardner then asked whether the committee could add other guidelines and review them before the item went to the Planning, Zoning & Adjustment Board.
Cohen said that they would have to be discussed in public.
"For you to individually comment on something you would be required to vote on, you have to do it in the sunshine," she said.
Committee Member Linda Eli suggested bringing the issue back at the board's next meeting in two weeks.
"Is there any reason we can't push this decision to the next meeting and have staff come back with new language and to answer our questions?" she asked.
Committee Member Michael Whitlow said he didn't want to push back Swerdlin's approval to conflict with the equestrian season.
"I don't want to do anything to handicap them from doing what I think is a good thing," he said. "I don't think anyone here has problems with what they're trying to do with their clinic."
But, he noted that the Planning, Zoning & Adjustment Board meeting in August is canceled, meaning that board would not be able to hear the issue before September.
Swerdlin said he was not opposed to postponing the issue but was concerned that his clinic might not meet whatever guidelines the committee wanted to add.
Eli made a motion for staff to work with both Swerdlin and Lhota to address some of the concerns and bring back new guidelines for clinics at the next meeting. The motion passed 5-0 with committee members Linda Smith Faver and Carlos Arellano absent.