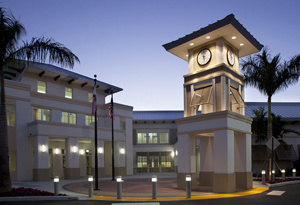 The Wellington Village Council voted Tuesday to approve plans that would net the village $253,335 from the federal government to go toward improving accessibility for public facilities, senior transportation and other programs.
Council members also asked staff to look into using future grant money toward senior housing programs.
The council voted unanimously to approve an action plan for the Community Development Block Grant Program.
The village must submit an action plan annually to the U.S. Department of Housing & Urban Development to be eligible for grant money.
Community Services Director Nicole Evangelista said about $165,000 would go toward improving sidewalks to meet requirements of the Americans with Disabilities Act for accessibility. Approximately $10,000 will go toward the Senior Transportation and Rides (STAR) Program; $15,000 will be spent on a tuition reimbursement program; and $13,000 will provide youth recreation scholarships.
Block grant money is issued to municipalities to finance programs typically for low-income residents, but seniors do not have to meet an income level.
Village Manager Paul Schofield said Wellington's seniors are the largest beneficiaries of the program in Wellington.
Evangelista agreed. "They don't have to meet the low-income qualifier," she said. "They just have to be 62 or older."
Councilwoman Anne Gerwig pointed to the STAR program. "You're offsetting their out-of-pocket funds for transportation," she noted.
Under the STAR program, Wellington covers the $4 cost typically charged for each ride in the senior transportation program. "That will continue this year," Evangelista said.
Councilman John Greene asked whether the money could go toward senior housing programs.
"One thing we hear constantly from our seniors is they want to age in place," he said. "There seems to be a lot of concern as the population is aging about staying in Wellington. How can this money be used, if at all, to look at housing options that would allow seniors to stay and age in place?"
Evangelista said there are programs that will allow Wellington to use the block grant money for senior housing.
"It's something we can look into for our 2015 programs," she said. "The funds we have right now will completely satisfy the ADA sidewalk project. It will be done next year, and we will be looking into new projects."
Greene asked whether Wellington requests a certain amount of money. "If we have larger programs for senior housing, can we request more funds?" he asked.
Evangelista said the village gets what HUD chooses to give it. "It's a formula," she said. "But we can look into options for programs that can help."
Councilman Matt Willhite said senior housing has been a goal of his for many years. "In 2008, we said we would start looking into more senior housing," he said. "I'm encouraged that we applied for this grant, it's something I would like to start looking at more. Whatever tools we have available to move this forward and make it easier for our seniors to age in place, I would like to see us look into that."
Mayor Bob Margolis also supported the idea. He suggested staff meet not only with the Senior Advisory Committee but also the Wellington Seniors Club.
Schofield said Wellington staff would begin to look into the programs for next year after the 2014 budget is set.