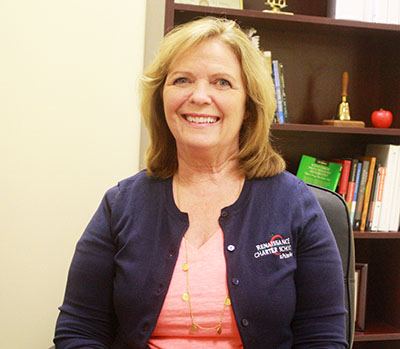 BY ANNE CHECKOSKY
Years in the making, the Renaissance Charter School at Palms West will welcome its first students next week.
The Royal Palm Beach school is run by Charter Schools USA, founded in 1997 as one of the first charter-school management companies in the country.
The company now runs 58 schools in seven states, said spokeswoman Colleen Reynolds. The Palms West campus is the company's third charter school in Palm Beach County, although it operates more than 30 schools across 11 Florida counties.
Renaissance Palms West opens Aug. 19 serving students in kindergarten through sixth grade. The school will expand to eighth grade in future years.
The opening caps a two-year project that retrofitted a long-shuttered Albertsons supermarket at the corner of Southern and Crestwood boulevards into the thriving new school.
Leading the school as principal is veteran Palm Beach County educator Sharon Brannon.
A longtime teacher, administrator and principal in the Palm Beach County School District, Brannon lives in Wellington. She served as principal at Frontier Elementary School in The Acreage and Forest Park Elementary School in Boynton Beach.
After a move to Tuscon, Ariz., where she became principal of a K-12 charter school, and a brief, two-month retirement, Brannon said she was ready to get back in the game.
"I knew I wanted to continue to work as a principal. I just love schools," she said.
There are a few things that set Renaissance Palms West apart. First is its emphasis on parental involvement, which is mandatory, Reynolds said. Parents must commit to volunteering at the school for 20 hours per year. It's 30 hours of volunteering if more than one child is enrolled, she said.
"We have found that when adults are involved [in education], kids do better," Reynolds said.
That doesn't look like it will be a problem at Renaissance Palms West, because parents are already clamoring to help, Brannon said. Last week, as she and the teachers trained in their new school for the first time, there was already a group of parents on hand volunteering to help teachers get classrooms ready.
"I am overwhelmed by the positive support we've gotten from parents," Brannon said.
There are 842 students enrolled at the school this year, with another 345 on waiting lists. But the wait list doesn't apply to all grades and there are some slots still open, Brannon said.
While the school is starting as a kindergarten through sixth-grade school, one new grade will be added each year for the next two years, Reynolds said.
Students at the charter school all get their own personalized learning plans, Reynolds said.
It's a data-driven curriculum with benchmark testing to see where the students are and get them where they need to be, she said.
In addition to core subjects, such as math and reading, the school will also offer classes in art, music, Spanish and physical education, Brannon added.
The school follows the same state standards as public schools and is a step ahead of public schools when it comes to transitioning from the Sunshine State Standards and FCAT testing to the new Common Core standards, Brannon said.
Kindergarten to second-grade students at Renaissance Palms West will use the new Common Core standards reading textbook this year. That will make it a little easier for them to make the transition, although the third- to fifth-grade teachers know this is the last year for Sunshine State standards, Brannon said.
Pupils can look forward to state-of-the-art technology in their new school, including two computer labs, two art and music rooms, laptops, a mobile laptop, laptops for teachers, Smart Boards and interactive white boards, among other things, and a slew of software packages that will allow students to do advanced-level coursework or take remedial courses, if needed, Brannon said.
There will also be a character-education curriculum that teaches children how to be good citizens in the classroom and beyond. "They'll learn how to be kind, considerate and honest," Brannon said.
Her goals for this year include creating a strategic plan for the school; analyzing student data in reading, writing, math and science, to see how students are performing; creating a culture of academic excellence; recruiting and retaining highly qualified teachers; and providing professional development opportunities for them.
"This is an exciting beginning," Brannon said. "We know we'll have a good year."
Parents will be able to monitor their child's progress using a student information system that provides real-time test results and tracks things such as the student's completion and turning in of homework assignments on time, as well as any disciplinary action. The system will be accessible online — no waiting around for a progress report at the end of the grading period, Reynolds said.
Reynolds said demand for charter school options in central Palm Beach County is what led USA Charter Schools to open the Renaissance Palms West campus. The company also opened the Renaissance Charter School at Summit on Summit Blvd. in West Palm Beach this year. The Renaissance Charter School at West Palm Beach on Palm Beach Lakes Blvd. opened last year.
The Renaissance Charter School at Palms West is located at 12031 Southern Blvd. in Royal Palm Beach. For more information, call (561) 214-6782 or visit www.palmswestcharter.org.
ABOVE: Veteran educator Sharon Brannon is principal of the Renaissance Charter School at Palms West.