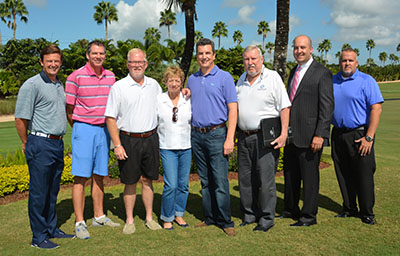 The Neil S. Hirsch Boys & Girls Club of Wellington will hold its 32nd annual Wellington Golf Classic on Saturday, Oct. 12 at the Wanderers Club. The event kicks off with an 11 a.m. signup followed by a 12:30 p.m. shotgun start.
All proceeds from the tournament go directly to programming for the more than 750 members served by the Boys & Girls Club of Wellington. The following sponsors have made the event possible: Pat Evans of Illustrated Properties, B/E Aerospace, Price Waterhouse Coopers, Hector Mena of Edward Jones, Braman Motorcars, Ernst & Young, Deloitte Accounting and Longhorn Steakhouse.
Ed Portman will celebrate his 32nd consecutive year as tournament chairman and co-founder of the local event."For the past 31 years, this community has given us the most overwhelming support by coming out and golfing for the kids," Portman said.
Joining Portman as tournament chairs are Pat Evans and Woody White. Committee members are Jim Bomar, J.R. Reid and Todd Barron.
Players will enjoy snacks and beverages spread throughout the course. There will also be numerous fun and challenging activities, including hole-in-one prizes. Golfers will be able to take a swing at winning a new car courtesy of Braman Motorcars, and a custom-fit set of Taylor Made golf clubs with a pro golf bag courtesy of Palm Beach Golf Center. Immediately following the tournament will be a delicious course-side buffet provided by the Wanderers Club and an awards ceremony with raffle prizes and a silent auction.
Golf fees are $150 per golfer or $600 for a foursome. Sponsorship opportunities are still available.
The new Boys & Girls Club of Wellington provides a safe and supervised alternative for area children ages 6 to 18 after school, during the summer and on most school holidays. The club's activities promote health and life skills, education and career development and leadership.
For more information on this year's tournament and the club, contact the Special Events Department at (561) 683-3287 or Ed Portman at (561) 602-4409.
ABOVE: Justin Thompson, Roger Worrell, Woody White, Pat Evans, Jim Bomar, Ed Portman, Todd Barron and Kevin Murray.