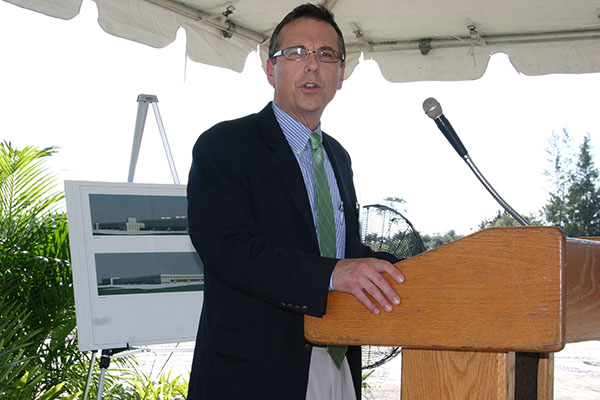 The Aldi grocery store chain officially broke ground on its new $50 million, 650,000-square-foot distribution center in Royal Palm Beach last Friday.
While the ceremony was held Aug. 30, construction actually began in June.
The small ceremony was attended by Aldi officials, as well as representatives from Royal Palm Beach, Palm Beach County, the State of Florida and the Business Development Board.
The project, located on 60 acres at 1171 N. State Road 7, will serve the growing German-based company's stores in South Florida. It is scheduled to begin operation by 2015, adding about 150 jobs locally, with many more to be added with the completion of new Aldi stores across the region, company official Chris Hewitt said.
Hewitt said that the company, although new to the area, has been in business in the United States since 1976, offering shoppers a steep discount off their grocery bills.
"We believe that high quality should be affordable," he said. "We keep our business operation simple, and we leverage our buying to supply our customers high-quality products at affordable prices. Our model is based on efficiency, so we take out all the hidden costs that you often find in other retailers."
There are more than 50 Aldi stores in Florida. Southeast Florida now has nine stores, including one on Okeechobee Blvd. in West Palm Beach. The new distribution center is designed to serve many more in the coming years, Hewitt said.
"To support this expansion, we offer positions with generous compensation packages above the industry standard," he said. "In fact, for those employees that work on average 20 hours per week, they receive full insurance benefits as well as dental benefits and 401(k). We're very pleased with the quality of the people that we have working for us and what we are able to offer to those people."
National Warehouse Coordinator Brian McGee has been involved with the Royal Palm Beach project since its inception several years ago.
"I am proud to be standing here today with all you great people as we officially kick off this project," McGee said, explaining that Aldi did meticulous research before coming to a decision on the location in Royal Palm Beach. "Aldi prides itself on being thorough in all that we do, and the process of identifying the right site for a regional corporate office and distribution center like this was no exception. We definitely ended up in the right location."
In addition to bringing good-paying jobs, McGee said the building and surrounding property will be attractively designed and landscaped. "It has got warm earth tones. It's a tilt-up building with lots of glass and will blend very nicely with the Florida environment," he said.
Landscaping will be in keeping with LEED (Leadership in Energy and Environmental Design) standards and designs, and trees will be used as a visual buffer.
McGee said that village staff was very supportive in helping guide Aldi through the approval process, as well as county officials, State Rep. Mark Pafford (D-District 86) and State Sen. Joseph Abruzzo (D-District 25). He also credited Business Development Board President Kelly Smallridge for ensuring that Aldi ended up in Palm Beach County.
Royal Palm Beach Mayor Matty Mattioli said Aldi's locating in Royal Palm Beach is a major economic boost for the area.
"I've been in the county for 30 years, and never dreamed that Aldi would come to Royal Palm Beach," Mattioli said, adding that Smallridge, Village Manager Ray Liggins and Royal Palm Beach staff spent many hours closing the deal "I'm very delighted to welcome everyone to this very important day for Aldi and the Village of Royal Palm Beach, a day we have been waiting for and are happy to be part of. This groundbreaking is pivotal in the village's history and hope for the future."
County Commissioner Jess Santamaria, a resident of Royal Palm Beach, said he had no hesitancy about bringing Aldi to the area after learning more about the company.
"I have been here since March of 1974, and over the 40 years that I have been here, many good things have happened to the community," Santamaria said. "I have to honestly tell you, you are among the best things that have happened to Palm Beach County and especially the Village of Royal Palm Beach. We have great schools and great hospitals, but you count among the top 10."
Santamaria said it was a pleasure seeing the project come to fruition.
"I have full confidence that you will be sensitive to the residential area next door," he said. "As long as you take care not to infringe on the quality of life of the residents, which I feel confident you will, I am sure that you will be more than welcome by all of us members of the community. You will be an asset to the community, and we will be an asset to you as well."
Curt Siegmeister, southeast regional director for Gov. Rick Scott, said that the governor had asked him to extend personal thanks to Hewitt and McGee for everything Aldi is doing to meet the statewide goals of getting Florida back to work.
"It just goes to show how there are big things happening in not only Florida but Palm Beach County, especially. It is fantastic to see a company like Aldi, whose reputation precedes itself, move and expand not only in our state, but in the county in which I grew up," Siegmeister said. "They are part of the reason Florida has its lowest unemployment rate in five years."