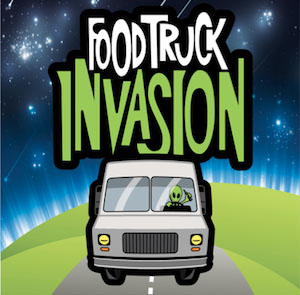 BY ANNE CHECKOSKY
On Tuesday, Sept. 3, Food Truck Invasion hit Royal Palm Beach High School for the first time, and organizers are hoping the event proves so successful, it becomes a regular event.
Look for the food trucks the first and third Tuesdays of each month from 5 to 9 p.m. on the RPBHS campus at 10600 Okeechobee Blvd.
The idea was born last year, when the high school hosted the annual convention of the Florida Association of Student Councils, said Justin Arnone, student council adviser and activities director at the school.
With 1,200 kids to feed for that event, the concept of having food trucks on campus was appealing, and it worked. So when discussing potential fundraisers for this school year, students were excited about hosting regular Food Truck Invasion nights on campus, Arnone said. "It was really the kids' idea," he said.
He called the turnout for the first event decent, and said he hopes it will grow so they can continue hosting it throughout the school year. "It will only get bigger," Arnone predicted.
There were 20 trucks at the Sept. 3 event, featuring everything from vegetarian fare to burgers, Asian and Jamaican foods.
To get started, Arnone began checking out different food truck events, such as those offered at Royal Palm Beach Commons Park and the Wellington Amphitheater, for example. That's when he realized that trying to reach out to individual trucks would be a daunting task.
Enter Steve Simon, owner of Miami-based Food Truck Invasion, which coordinates food truck events all across South Florida.
Simon met with Arnone and agreed to take on the RPBHS event. On any given weekday, there are three to five food-truck events taking place somewhere in South Florida, said Simon, who explained that he incorporated Food Truck Invasion in 2011 but was organizing events prior to that.
The trucks donate a flat rate to schools, based on the number of trucks at an event, he said. He said that plenty of schools all over South Florida raise money using Food Truck Invasion.
So how does he decide which trucks will or won't be at an event?
"Experience over the years helps, but I like to be fair to those wanting to attend, so I rotate them," Simon said.
Arnone said 20 trucks are about ideal for RPBHS, although the campus could accommodate up to 30.
For the next Food Truck Invasion, set for Sept. 17 in the east parking lot, he hopes to get word out using the Palm Beach County School District's automated call system, which reaches out to families with important or timely information. Arnone was unable to use that system to get the word out about the Sept. 3 event, which probably contributed to the lower numbers, he said.
He'll also try to cook up some extra participation by getting the word out to nearby feeder elementary and middle schools.
Arnone, who has been at RPBHS for the past seven years, said what he really wants is for people to come out to the campus and have a good time.
"It's a very family friendly event, and we have a DJ, as well," Arnone said.
Vendors who'd like to be considered for the Food Truck Invasion can visit www.foodtruckinvasion.com and fill out an application, Simon said.
For more on the Royal Palm Beach High School Food Truck Invasion, visit www.rpbhs.org under the upcoming events section. For a complete calendar of South Florida food truck events, visit www.foodtruckinvasion.com.