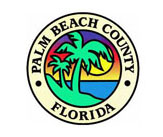 Whether it's human-induced or of natural causes, climate change poses a big risk to South Florida, and officials in Palm Beach, Broward and Miami-Dade counties have formed a compact to address its effects.
Assistant Palm Beach County Administrator Jon Van Arnam, along with experts from the South Florida Water Management District and the county's Environmental Resources Management and Planning & Zoning departments, gave the Palm Beach County Commission a briefing Tuesday on the Regional Climate Action Plan, focusing on its findings and recommendations regarding sustainability and resilience.
Van Arnam said that building community resilience is critical to maintaining the standard of living that South Floridians enjoy.
"Roads, drinking water, hospitals and so on are all part of that infrastructure. We must work to sustain and create a resiliency to that infrastructure," Van Arnam said, pointing out that the county has led the way in creating sustainability. "In 2008, the county commissioners showed their resolve by creating the Green Task Force. The task force completed its work in 2009. We had a number of recommendations."
Many were implemented and are now reflected in county policies, he said. The county was recognized as a Florida Green Local Government by the Florida Green Building Coalition for its environmental sustainability program, which includes buildings that are certified for energy efficiency, environmentally friendly golf courses, the county's waste-to-energy plant, the water utilities pelletization facility and LED lighting for sports fields. "The list goes on and on," Van Arnam said.
The commission has also approved a position for a climate and sustainability coordinator that staff is in the process or recruiting, using pollution recovery trust funds. "We're excited about that because it will help us advance our efforts even further," he said.
An important aspect of the county plan is municipal outreach, specifically as it relates to climate, he said. "We are in the process of meeting with our cities, and we are taking a different approach in our county than the ones that were taken in Miami-Dade and Broward," Van Arnam said.
The county is making use of the action plan to offer assistance to municipalities with their own sustainability programs.
"This partnership-building, we believe, is critical to having the implementation of the action plan be sustainable into the future," Van Arnam said, explaining that the municipalities will have the choice of adopting the action plan in its entirety or using parts of it that apply to them to build their own plan.
"Extreme weather and rising seas are threats to Southeast Florida," he said. "We know that the threats to public and private structure include things like flooding, beach erosion and wind damage. We have potential impacts on water supplies such as water shortages and saltwater intrusion, and we're concerned about the compromised natural systems."
Dr. Jayantha Obeysekera, who holds a doctorate in engineering and is the modeler with the SFWMD's Hydrologic and Environmental Services Section, said records taken in Key West show that the sea level has risen 10 inches in the past 100 years.
He is participating in a current national climate assessment, sitting on a federal advisory committee that is preparing a report on issues including sea level rise, rising temperatures and heat waves, and how they affect the environment, health and population growth, particularly as it relates to water availability.
Obeysekara said the panel should have a draft finished next year. The studies take into account both natural climate change patterns as well as human-induced stressors, including land use changes and greenhouse gases.
"At the top of the list were rising sea levels, and the tropical storms and hurricanes," he said. "There is a national consensus that the extremes will be more frequent and more extreme on the rainfall aspects."
Van Arnam said that adaptation to anticipated climate change figures predominantly in plan strategies.
Part of the strategy is for more water storage as drier patterns are predicted in the future. "Storage of water is going to be critical during those times," he said. "That is something the Water Utilities Department is already very active on."
He added that banks and insurance companies are already looking at climate change as considerations for construction loans and premium rates.
"Insurance companies know as much about climate change as we know, and they are looking to us to be on top of this and to have a plan in place," Van Arnam explained.