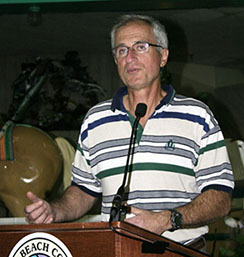 Palm Beach County Administrator Bob Weisman spoke about the recently approved budget and the reasoning behind some of the county's decisions at a meeting hosted by County Commissioner Jess Santamaria on Wednesday, Sept 18 at the original Wellington Mall.
The county approved the same tax rate as last year at 4.7185 mills, which will generate a total of $623 million in ad valorem revenue, about $19 million, or 3.2 percent, higher than the 2013 budget.
Weisman pointed out that no one showed up to complain about the increased budget at the commission's public hearings.
"We did get complaints about not spending enough on some things, but we took a responsible attitude toward this budget, as we have for the last seven years, by trying to hold the line on tax revenues and not letting the size of county government increase," he said. "If you want to keep taxes down, you can't increase your services. You have to become more efficient at what you're doing, and that's what we have done for the past seven years."
From 2001 through 2006, there was a notable increase in property values every year, and the county kept the tax rate about the same. Yet revenue increased due to higher property values by a rate of 10 to 15 percent annually.
"That generates a lot of additional money," Weisman said. "Those days are over. I don't think we're ever going to see that kind of situation again."
Weisman said the budget is coming back and property values are increasing again.
"When we entered the budget process, we knew that property values were going to go up about 3 to 4 percent, and that allowed us to keep the percentage rate the same," he said. "We thought we might need to bump it up a little, but we did not."
County staff was able to keep the tax rate the same as last year, as did the Palm Beach County Library District and Palm Beach County Fire-Rescue. Constitutional offices, except the Palm Beach County Sheriff's Office, held their budgets the same or reduced them. The judicial department budget was $3.4 million less than in 2013. The sheriff's budget was $17 million higher.
"Your actual tax revenue to the county will go up if your property value for assessment purposes went up, but that is capped at a 2.7 percent increase by the Save Our Homes amendment," Weisman said. "We continue to be very conservative, and we have 700 fewer employees than we did seven years ago. That's even with adding new fire-rescue employees and taking over utilities in the Glades."
The county also privatized some operations, such as custodial services, and froze salaries for five years.
"This year was the first year we proposed pay raises," Weisman said. "Even with our proposed increase in revenues this year, we're not much above what we were in 2010, and if you factor inflation in, we really have not had an increase in tax revenue."
He pointed out that the PBSO budget now takes half of the general tax revenue. The sheriff's increase this year was twice that of other county budget increases.
"That's going to be a big problem for all of the people here in the future, and something a future county commission is going to have to deal with, and the sheriff is going to have to deal with, because if you hold taxes down and the sheriff gets an increasing percentage of your money, then you have less money for all of the other services," Weisman said.
Yet it is necessary to provide all of those other critical services.
"That's what the public comes to the board to speak to us about," he said."It's about all those other things we do that they do not want to see cut, most notably Palm Tran and Palm Tran Connection. A lot of public support and a lot of county dollars are going to that."
This year, the county commission approved Palm Tran rate increases, which was controversial but generally found to be acceptable by Palm Tran citizen advisory groups.
"We increased some services to go with that," Weisman said. "When you see one of our Palm Tran Connection vans riding around the neighborhood, those vans are costing around $35 an hour to operate, and that's privatized. Their employees are paid very little, about $9 or $10 an hour, and they have a lot of responsibility."
There was also controversy toward the end of budget discussions about financing the Office of the Inspector General in lieu of funding that was not forthcoming from municipalities due to the ongoing lawsuit, as well as the Youth Empowerment program, which aims to keep kids in crime-ridden neighborhoods from going bad.
Weisman said those two issues came after other issues had been resolved. The Youth Empowerment program was established eight years ago in response to gang activity that was widespread at the time in Lake Worth, Boynton Beach, Riviera Beach, West Palm Beach and the Glades.
"The county funded that with over $6 million of your tax dollars over several years, but that was supposed to be it, and then the cities were supposed to step up and pay all the money after that," he said. "This was the feed money, your taxes, to get this started, but all of these services are strictly in the cities, and they were supposed to take over the funding, and they either could not or did not."
At the same time, the county is fighting a lawsuit over the inspector general and some of those very same cities that had withheld money from the inspector general were now seeking county dollars to pay for the Youth Empowerment program, specifically Riviera Beach and West Palm Beach, Weisman said.
In a 4-3 vote, the county commission voted not to cover about $70,000 to Riviera Beach and $50,000 to West Palm Beach that they were short in repaying the county for the Youth Empowerment program.
"The controversy rests with the idea that somehow we were balancing the budget on the backs of the kids, and that somehow the county was at fault for that," he said. "There is no excuse why the cities can't step up and fund Youth Empowerment. That's where the public reaction should be directed."