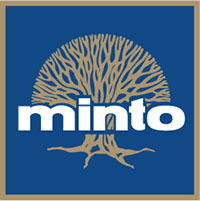 Homebuilder Minto Communities Florida announced this week that it has purchased the 3,800-acre Callery-Judge Grove property adjacent to The Acreage with the intention of developing a master-planned community.
The development is currently referred to as Minto West.
Minto paid $51 million for the property. According to a company statement, it will be seeking a comprehensive plan land use change to increase the overall residential density to 1.7 units per acre and an intensification of the commercial, retail and other non-residential uses to create a "sustainable community" that integrates with the rural character of the western communities.
More on Minto's plans can be found at www.mintoinfo.com.
Minto's is no stranger to homebuilding in the western communities. Company developments include Madison Green and PortoSol in Royal Palm Beach, and Olympia in Wellington.
Callery-Judge began growing citrus in the 1960s, but its once-lucrative grapefruit and orange crops were placed in jeopardy as citrus canker made its way slowly through South Florida about 15 years ago.
The once-mighty grove's demise was hurried along by the winds of hurricanes Frances and Jeanne in 2004, and again by Hurricane Wilma in 2005, which destroyed thousands of the grove's trees. Citrus greening, also known as Huanglongbing or yellow dragon disease, a bacterial disease believed to have originated in China, also threatened the crops.
In 2004, Callery-Judge initiated a development plan that included community charrettes to involve residents, and contracted numerous consultants to help design a master-planned community.
In 2007, Callery-Judge proposed a community with 10,000 homes and 2 million square feet of commercial use that planners said would increase local employment and reduce the need to commute. Homes and other developments were clustered to encourage pedestrian traffic, leaving open space and waterways to help the South Florida Water Management District restore a more natural water flow in the county. It also pledged property for additional schools. Several existing schools, such as Seminole Ridge High School, sit on former Callery-Judge land.
The application for a Development of Regional Impact won approval from the Treasure Coast Regional Planning Council and state officials, but the Callery-Judge plan was shot down by the Palm Beach County Commission after a large contingent of residents showed up to protest it, calling the proposal too large for the area.
Callery-Judge later came back with an application for almost 3,000 homes and 235,000 square feet of commercial space, which did win county approval.
In April 2011, Callery-Judge was slapped with a foreclosure lawsuit alleging that the grove owed Prudential Industrial Properties $37 million in mortgages, plus $8.7 million in interest.
Callery-Judge General Manager Nat Roberts said the loan was secured before canker and greening were so prevalent. It matured, and the Acreage cancer cluster issue, compounded by the difficult real-estate market, made it a much more complicated issue to refinance.
Roberts said he thought Minto was the right fit to develop the property. "They are a very good company that is very familiar with the area," Roberts said. "They have built good communities in the area, and I think they are the right group for us to sell the grove to. They're going to do a good job doing what they're doing."
Roberts, who has been with Callery-Judge for 14 years, said he plans to spend some time wrapping up activities in the grove, and that some of his associates who were working at the grove will continue working with Minto.
"I think that's positive, and I'll see what's coming next when I finish the work I've got in front of me," he said.
Callery-Judge is surrounded by the Indian Trail Improvement District, but is not actually part of ITID. It controls its own governmental entity known as the Seminole Improvement District, which owns a reverse osmosis water utility.
Roberts said current activities on the property, including tenant farming of vegetables and landscape plants, will continue until Minto's activities commence.
Given the proposed residential density and significant size of the Callery-Judge land, Minto representatives have suggested that the Minto West project can provide viable, long- term solutions to several regional issues that have faced the western communities, such as inadequate drainage, flooding concerns, accessibility, consumer services, employment opportunities, community parks and recreational facilities.
Minto West will not be designed as a self-contained development but will integrate with the area, according to company plans.
Its initial development proposal suggests 200,000 square feet of office space, 200,000 square feet of light industrial and manufacturing space, 500,000 square feet of aerospace and technology research and development space, 500,000 square feet of retail space, a 3,000-student university, a 150-room hotel and 6,500 homes.
The developer plans to hold public discussions on how best to design and integrate its plan within the community.