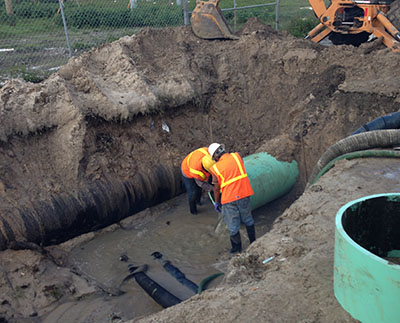 A 30-inch Palm Beach County sewer line that burst early Monday at 40th Street North and 110th Avenue North in The Acreage was closed off by 10 a.m., but about 75,000 gallons of sewage spilled into nearby roads and a canal before it was routed to a containment area, according to Indian Trail Improvement District officials.
By late Monday, the county was draining the area, and ITID workers placed fill strategically to block surrounding culverts, but some of the overflow drained directly into a canal, ITID Interim Administrator Jim Shallman told the Town-Crier.
All crossings west and north of the broken line were blocked off, and the county had vacuum trucks working to pull the contaminated water off the ground and roads, as well as the Florida Power & Light easement to the south, which was used as a containment area.
Shallman said repairs to the pipe are complete and the system is under pressure, but that the back pressure from the break also caused a pipe to crack Monday night at Crestwood Blvd., where county staff spread lime.
Shallman said Palm Beach County Water Utilities Department Deputy Director Brian Shields told him Tuesday that the spill was around 75,000 gallons, compared with a spill in 2010 about 100 feet away that discharged several times that amount.
Shallman said there is concern that rocks are working their way to the surface over time from vibrations due to heavy truck traffic, adding that the county is going to examine the possibility of replacing the entire pipe along that route.
According to a report to the Palm Beach County Commission from Palm Beach County Water Utilities Department Director Bevin Beaudet, the failure was reported by an animal farmer who owns three lots near the site of the break. Utilities officials isolated the line in about two hours, and the wastewater was diverted to a hastily constructed impoundment south of 40th Street in the FPL easement.
About 1,200 gallons of wastewater was discharged into a nearby canal. The only private property affected was the farmer's property at the east end of 40th Street, according to the memo.
Palm Beach County Health Department representative Tim O'Connor said no residential well fields appear to have been affected, and the farmer is on the county's potable water supply.
"We're the delegated agent for the Department of Environmental Protection in Palm Beach County, so we investigate wastewater discharges like this one," he said.
A health department inspector who visited the site reported that the spill had been contained and that none of the wastewater appeared to have drained into the farmer's pond nearby.
"There's a pretty good-sized swale along 40th Street," O'Connor said. "That did fill up, and then they rerouted it to a containment area. As a precaution, water utilities is going to test some of the wells. If there is any contamination, they will help figure out how to clean it up, but there is no boil-water notice or anything like that at this time."
ABOVE: Workers fix the broken sewer line in The Acreage. Photo Courtesy ITID