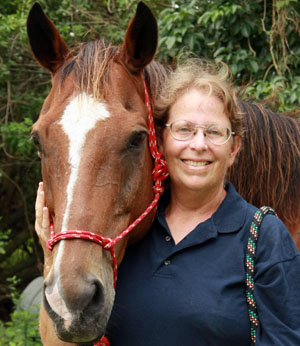 TAILS FROM THE TRAILS
Growing up in Allentown, Pa., Lindsay Holland begged to take riding lessons. She finally started riding at the ripe old age of 9 and never looked back, riding and competing in Western Pleasure and Hunt Seat. Some years later, a farrier harmed her horse by improperly shoeing him.
"My horse, Bitz, had very upright angles. The farrier chopped his heels off, and his hooves basically fell apart. He was lame for a year, couldn't keep shoes on," she recalled. "I was 15 years old, and I vowed that would never happen again."
Holland was living in Massachusetts at the time, but as soon as she could, she headed off to farrier school in Oklahoma to learn the basics. In 2000, she moved to Loxahatchee and apprenticed herself to Thomas Spallings, a local farrier, working alongside him for several years.
However, shoeing horses in South Florida is very difficult. "The climate's hard on horses and people and hooves," Holland said. "The heat, the bugs. Half the year horses stand in sand, and the rest of the time they stand in swamps. It's rough."
That led Holland to try other techniques.
"I finally got into barefoot trimming, and saw a great improvement in the hooves. There are less cracks, the angles are better, and a lot of lameness goes away. Keeping a horse barefoot can correct crookedness and improve balance. I've seen horses walk out of founder and navicular horses go sound," she said.
Each horse needs to be treated as an individual.
"I don't follow any special kind of trimming, I just use common sense, read the hoof, and do what it tells me to do. The hoof has its own map, and I follow it," Holland said. "Some horses take time to get used to going barefoot. If they've always been in shoes, the inner structures may not have developed properly. The transition takes time."
Ideally, horses get used a variety of surfaces, hard and soft, to build calluses. "In South Florida, the footing's horrendous, always too soft, so horses have trouble building calluses. You see a lot of flat pancake hooves and low heels," she said.
But Holland is not only a farrier; she also trains horses and teaches them tricks.
"I really love trick training," she said. "Eight years ago, I met Julius Von Uhl and watched him train, show and start horses. He was the head trainer at the Arabian Nights attraction in Orlando. I watched what he did, and thought I'd give it a try. In no time I had my horse doing a Spanish walk, bowing, rearing and laying down. It was so much fun, it got my blood going. So I decided to teach others. The more, the merrier."
Holland has also taught horses to sit down, sit up, pray, stand and turn on a pedestal, and do liberty work.
"I love teaching Spanish walk the best," she said. "It takes coordination, stretches the muscles. Tricks are like yoga for horses — it keeps them limber and engages their brains. They like it. It's something different and relaxing. You take one behavior and expand it and build on it, evolve it in tiny steps. You can turn a bad or dangerous behavior, like pawing or rearing, into something positive."
Holland also trains horses more conventionally. Alice Mullins kept Chili Dog, her Paint gelding, in Loxahatchee. She'd bought him in 2005, not knowing he'd only been recently gelded and had been used as a stud. Within a short time, he colicked, had surgery three times, then foundered.
"He was two years in rehab, and of course I couldn't ride him," Mullins said. "I really needed help with him. I'd watched Lindsay ride and train horses, and she really impressed me. It was wonderful. I never saw anyone approach a horse like Lindsay. She persevered through all his problems, corrected him and built him up. She just knew what to do. She has a lot of patience."
Mullins said Holland has the right temperament for the work.
"I liked that she was extremely kind, but firm. She always ended on a positive note. It was a long, hard road, a real struggle, but she met his challenges and brought him around, brought out the athlete in him," she recalled. "I recently moved to Ohio to be closer to family, and brought my horses along. They're doing fine, but it was a bittersweet move. I love being closer to my family, but I miss Lindsay. She has a real talent. She knows what she's talking about and can quietly get results."
For more information, call Lindsay Holland at (561) 414-9031.