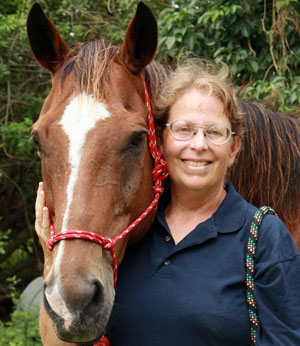 TAILS FROM THE TRAILS
The Acreage Horseman's Association is bringing a new show to town this year, and its riders and director are very excited about the group's first hunter/jumper series.
"This will be our first full season offering a hunter/jumper show," said Anne Walker, director of hunter/jumper shows for the association. "Our pleasure shows had a few hunter classes, but this circuit will be geared entirely toward the hunter/jumper rider. We're going to have 'R'-rated judges, division champions at each show and great year-end awards."
Walker said many equestrians were interested in staging something new. "A bunch of people asked about doing something like this, so we decided to give it a try," she said.
Not only that — they're also getting some local support.
"For our past jumping classes we borrowed some jumps," Walker said, "but this year, the Indian Trail Improvement District agreed to purchase a full course for us. There'll be eight shows, the third Sunday of each month, September through April. The April show will be the fourth Sunday, due to Easter."
That means the first show will be Sunday, Sept. 15.
"This is a great schooling show for anyone, whether they're experienced, novice or somewhere in between," Walker said. "Jumps will range from cross rails to 3 feet, very inviting courses, nothing too scary but with some different elements. These shows are relaxed, inexpensive and close to home. They'll be held at Nicole Hornstein Equestrian Park, and classes are only $8. Membership in the AHA is $20 for an individual and $30 for the whole family. We don't even require jackets, just tall boots and helmets."
The AHA has been making preparations, too. "We held two schooling shows earlier this year, and they were a great success. There were about 120 entries in the May show, and about 100 in June," Walker said. "As a matter of fact, anyone who joined the AHA and participated in the schooling shows is automatically a member for this new circuit. Our organization is all about getting the members of our horse community together for a good time, networking, and meeting new people with similar interests."
Shows start at 9 a.m., and schooling will be available for just $10 from 8 a.m. to showtime and during the noon lunch break.
"You can even come and just school without entering any classes, but you do have to join for insurance purposes," Walker said. "So far, the feedback has been extremely positive. Everyone seems thrilled with this new offering. It's a great place to start young or inexperienced riders and green horses. It's a nice steppingstone to other show circuits. We want these shows to be an opportunity where you can feel free to bring your horse and have fun with a great bunch of people."
The AHA also offers barrel shows on the first Sunday of the month, September through June, and pleasure shows on the second Sunday of the month, September through May. There will also be some free clinics, free kids' fun shows and free Extreme Trail Challenge events three or four times a year.
"People come out of the woodwork for our shows," said Linda Rainbolt, secretary and pleasure show director. "It's a lot of fun. We try to have something for everyone. We're hoping to add dressage classes. We love doing things for our local horse community. One of our goals is to get more kids involved, keep them into horses and out of trouble. It's really rewarding when people attend one of these events and say they've had a great time."
The divisions include Beginner Novice, Cross Rail, Short Stirrups, Long Stirrups, Low Schooling Hunter, Modified Hunter, Working Hunter, Cross Rail Jumpers, Low Jumpers, Medium Jumpers and High Jumpers. The entire class list and schedule can be found at www.acreagehorseman.com.
I attended the schooling shows and thoroughly enjoyed them. I'm planning on doing the circuit. Nothing too challenging for my very green mare: the Long Stirrups, in which there's no penalty for trotting the course. That should be just about right for both of us.
"I can't wait for the shows to start," said Bobbie Buisman.
Full disclosure: Buisman rides with me and shows one of my horses.
"I attended the two schooling shows," she said. "The park is beautiful, well-maintained and the people were all quite nice and respectful. It was a whole lot of fun being around other horses and riders. I especially like that it's so close, a nice short trip there and back."
The shows are perfect for a rider getting back into the game, she said.
"These shows are great for me. I used to show, many years ago, so getting back into it's a bit scary. This is a nice way to ease back into it, and also to get my horse used to crowds, loudspeakers and new surroundings," Buisman said. "I think anyone would enjoy these shows, especially newer riders or green horses. Plus, you can't beat $8 a class. I hope a lot of people come so there's more competition. Ride on over, bring your horse and have fun with a great bunch of people."
For more information, visit www.acreagehorseman.com, or call Linda Rainbolt at (561) 506-5212.