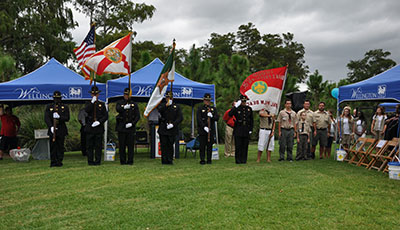 BY ANNE CHECKOSKY
The Wellington Rotary Club and the Village of Wellington will host a world peace ceremony Saturday, Sept. 21 at 11 a.m. at the Wellington Rotary Peace Park on Royal Fern Drive in Wellington.
The event, now in its eighth year, coincides with the United Nations International Day of Peace celebration, when thousands of peace celebrations are held worldwide.
The commemoration was established in 1981 by a resolution of the U.N. General Assembly. The first International Day of Peace was celebrated in September 1982. In more recent years, the U.N. specifically established Sept. 21 as an annual day of non-violence and cease fire.
The local goal is to raise the level of peace consciousness and promote conflict resolution and multi-cultural understanding, explained event co-chair Dr. Wes Boughner.
During the hour-long ceremony, the Rotary Peace Award will be bestowed. The award is given to a community resident or organization that embodies those aforementioned peace values
This year's recipient is the Bill & Melinda Gates Foundation, said Rotarian Randy Pfeiffer. The Gates family established the foundation in 1997. Key initiatives include eradicating diseases, giving access to clean water and food, sending children to college and giving the world access to the Internet. The Gates family spends time in Wellington each winter. Daughter Jennifer has ridden at the Winter Equestrian Festival for years.
In addition to the Rotary Peace Award, students at nearby elementary, middle and high schools will receive cash awards for contests that they entered and won, Boughner said.
At the elementary level, there was a poster contest. Seven schools participated. There is one winner from each school and those students will receive $75. At the middle school level, there was a poetry competition. With three schools participating, those students will also receive $75. At the high school level, there was an essay contest. Students at the two participating high schools will each receive $100. Finally, one overall winner of a photography competition that showcased multiculturalism and the theme "may peace prevail on earth" will receive $150 during the ceremony. A list of winners can be found here.
The Traditions choral group from Palm Beach Central High School will perform "We Are the World" and "Let There Be Peace on Earth," while local scouts will receive peace merit badges during the ceremony.
Last year, between 350 and 400 people attended the event, even though it was cut short by inclement weather, Boughner said. He expects to match those numbers this year.
The Wellington Rotary Club also expects to receive a proclamation from Mayor Bob Margolis deeming Wellington a peace community, and at the end of the ceremony, white doves will be released.
In another effort to raise consciousness about peace, Rotarians wrote to 22 area clergy members asking them to give world-peace sermons sometime prior to the Sept. 21 event.
"We believe that peace begins at home and in the community," Boughner said. "It's our job to raise consciousness and provide other alternatives to war."
The world peace ceremony is free and open to the public.
Wellington Rotary Peace Park is located near the Wellington branch library at the corner of Royal Fern and Birkdale drives, near Elbridge Gale Elementary School. For more information, call Boughner at (561) 791-2060 or visit www.wellingtonrotary.org.
ABOVE: The honor guard salutes at last year's peace ceremony.