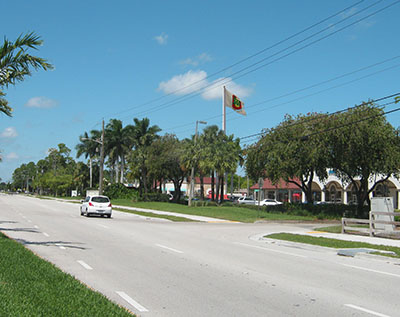 A 120-foot cell phone tower disguised as a flagpole could be erected in the middle of the Wellington Marketplace shopping plaza after members of the Wellington Planning, Zoning & Adjustment Board voted Monday to grant an appeal by the Clearview Tower Co.
The item still faces approval by the Wellington Village Council before it can be constructed.
Although Wellington staff recommended denial of the appeal, zoning board members favored the cell tower and granted the appeal, as well as a variance petition, and recommended approval of a conditional use permit to move the project forward.
"To me, it's aesthetics versus a need to build adequate infrastructure that has the capacity to expand as our needs do," Board Member Elizabeth Mariaca said.
Clearview Tower Co. challenged a ruling by Wellington staff that plans for the cell tower did not meet the village's requirements for a variance. Because the tower is close to homes and taller than 61 feet, Wellington staff interpreted village code to mean that the tower must be at least 600 feet from homes and meet setbacks.
But Clearview Tower argued that the code provided an option — either be located 600 feet from homes or meet setback requirements. The tower would be approximately 482 feet from nearby homes.
"Wellington code disfavors new towers and requires them to show there are no other existing towers or poles that they are able to provide service from," Wellington Planner Damian Newell said. "Staff has recommended denial."
The Wellington Marketplace is located at the corner of Greenview Shores Blvd. and Wellington Trace. The cell tower would be built as a flagpole and located in the parking lot behind Park Avenue BBQ. Staff asked Clearview not to fly a flag on the pole to minimize its appearance.
Cliff Hertz, attorney for the applicant, described it as a public safety issue.
"Seventy percent of all 911 calls come from cell phones," he said. "The coverage in this area is inadequate. Even at 120 feet, we will not be able to provide service to certain areas to the west of this tower."
Charles Bernardo, director of site acquisition for Clearview, said the tower mostly complies with the 600-foot setback. It is within 482 feet of only five buildings to the west across Greenview Shores Blvd.
Bernardo said Clearview contacted more than 600 property owners surrounding the tower, receiving only one letter in opposition of the tower.
Hertz added that a story was in the Town-Crier, and a campaign was launched through social media to inform residents about the tower. "I don't see many people opposing this," he said.
Further, Bernardo said, business owners in the plaza favor the tower, too. "They say they can't use their cell phones in their businesses, and they need it," he said. "A lot of shoppers complain that there is no coverage."
Clearview also brought representatives from service providers AT&T and Verizon Wireless, who said the companies receive complaints about coverage in that part of Wellington.
"The complaints have been constant in this area," Verizon Wireless System Performance Engineer Domingo Suarez said. "It's possible that outdoor coverage is existent, but in-building coverage is not guaranteed at this point."
Board Member Carol Coleman asked how the tower will affect the parking lot. "Will you lose any parking spaces?" she asked.
Bernardo said parking around the tower would be redesigned as angled parking, but the site would lose only two spaces.
She also asked how many carriers would be on the tower. Bernardo said it would be four, with two carriers already signed on should the application be approved.
Hertz said Wellington prefers multiple carriers on towers.
"The ordinance goes far out of the way to promote co-location," he said. "If you don't go high enough, you can't co-locate. The idea is to get more people on one tower so you have fewer towers."
Though some board members were concerned about the height of the tower, Hertz noted that the tower must be located above the tree line to provide the best service.
Board Member Mike Drahos asked how many other 120-foot towers there are in Wellington.
"There are not many that short," Bernardo replied.
He pointed out that the cell tower at the International Polo Club Palm Beach is 165 feet tall.
Board Member Paul Adams said he favored the tower in that location.
"People are less likely to have land lines," he said. "Most of them are in need of service in their own home. This pole will be a minimal visual impact among renters who have the most need. This is a public safety issue."
Drahos was concerned that residents who responded in favor of the tower were not aware how large it would be.
"I think it's our responsibility to recognize snake oil when we see it," he said. "What I didn't see was where, within that Facebook page, it was stated that they want to put a 120-foot tower up in the middle of Wellington. I didn't see business owners in here today speaking in favor of this."
Drahos said he believes the public will be upset once they learn of the tower.
"If the public is not up in arms now, I can assure you when this tower does go up, people will be upset about it," he said. "There are other alternatives. I don't see Palm Beach island or the Hamptons putting 100-foot towers up in their communities. Wellington has high standards, and we expect people to live up to those standards."
But Mariaca said she has friends in the area who she is unable to call on their cell phones.
"I'm concerned about residents not having cell phone service," she said. "They have to step out of their homes to make a call. I think [the applicant] has demonstrated they need the height to get the service."
PZA Board Vice Chair Tim Shields said the board was not there to argue the merits of the cell phone tower but whether the project met the variance requirements. He said it did.
Adams made a motion to approve the appeal and variance, which passed 5-2, with Drahos and Coleman opposed.
Controversy arose when it was time to hear the conditional-use permit application. Planning & Development Services Director Tim Stillings said staff had not prepared a list of conditions because it was recommending denial of the application. "We didn't want to give mixed messages," he said.
But some board members said they did not want to come back to hear the issue again. "This is disrespectful of our time," Shields said. "It was on the agenda, but they didn't think it would get approved."
Further, Hertz said the applicant shouldn't face the burden of re-noticing the meeting and making another presentation because staff was not prepared.
Adams suggested approving preliminary conditions, such as the 120-foot height and the color of the pole, and then letting staff work with the applicant for a larger list before the item goes to the council.
But Drahos said that would be "passing the buck."
Coleman made a motion to send the item back to staff for recommendations, which was seconded by Drahos. The motion failed 5-2.
Mariaca then made a motion to recommend approval of the conditional-use permit requiring a flagless flagpole, 120 feet tall, with five cell phone carriers, as well as any further staff recommendations for landscaping and color.
Adams seconded the motion, which passed 5-2 with Coleman and Drahos opposed.
ABOVE: A rendering of the Wellington Marketplace with the proposed tower.