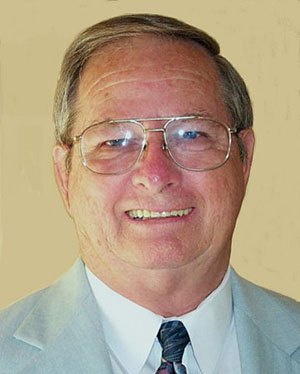 Robert Charles "Bob" Markey Sr., founder and longtime publisher of the Town-Crier newspaper, a community leader, benefactor and Wellington "founder," passed away peacefully under hospice care at 4:01 p.m. Saturday, Sept. 14. He was 80 years old.
Markey was a New York native, Korean Conflict veteran and proud, lifelong newspaperman. His career started at publications including The Brooklyn Eagle and the New York World Telegram and Sun, moved onto The New York Times and ended with his sale of the Town-Crier, which he founded in 1980 and sold in 1998.
Markey then founded Palms West Realty and was its broker until his retirement.
Markey loved the Palms West communities, especially Wellington, where he moved his young family in 1977. While an executive at The Palm Beach Post, he envisioned the future of the then-tiny planned community, and by May 1980, had created the Town-Crier from his kitchen countertop.
Family and friends would deliver the weekly newspaper door to door on Thursdays. The newspaper blossomed along with the community, and expanded with editions in Royal Palm Beach, Loxahatchee Groves and The Acreage, Palm Beach Gardens, West Palm Beach, Haverhill, Greenacres and Lake Worth. At its height, Bob Sr. and wife Patricia employed more than 60 people, added a newspaper press and printing operation, and published twice a week for several years.
All Markey family members — including his sons Brian and Bob II and daughter Patricia — and many close friends worked there. The office atmosphere was that of a large family, and there was almost nothing Bob Sr. and Pat wouldn't do to assist their employees.
Markey and a handful of community leaders started the Palms West (now Central Palm Beach County) Chamber of Commerce in 1984. Through his popular opinion column "Stray Thoughts" and strident editorials, Markey started an effort that would eventually give average Wellington residents the right to elect supervisors of the Acme Improvement District, then the community's local government.
Realizing that Wellington should control its own destiny, Markey formed and supported a citizens group called Residents of Wellington, which spearheaded an effort that would eventually result in the incorporation of Wellington as a municipality.
Late in his life, Markey was named one of the key people influential and important to Wellington history when his name was added to the village's Founders Plaque. Today, just seven leaders have been so honored.
Markey also led and supported efforts to better his communities — against a state effort to build a commercial farmers' market in Royal Palm Beach, in support of construction of hospitals and schools, for simple necessities like road widenings and traffic signals, and more. He spearheaded a drive that closed down the infamous Fred's Motel drug-dealing haven at Lantana Road and State Road 7.
Markey wrote thousands of news stories about the Palms West communities in 18 years at the Town-Crier, but was most proud of the 1,500-plus "Stray Thoughts" opinion columns he penned, touching many lives. Each week (and for several years, twice a week), he brought back memories of old New York, took sharp aim at criminals and politicians, welcomed to the world his grandchildren and proudly covered family and community milestones. The columns drew great emotional feedback in a pre-e-mail era — many supportive and some critical. Everyone respected the man and his prose.
His newspaper covered local news — good and bad — regardless of how it affected his business or finances.
"He told it like it was — with few holds barred," said his firstborn son, Bob Markey II. "He was unafraid of tackling any powerful entity or big story."
That included local governments, including Acme, which the Town-Crier discovered and reported was operating an illegal toxic waste dump on public land, and the community's master developer, which tried to influence coverage with advertising dollars.
As a result, the Town-Crier became one of the most successful, well read and honored community newspapers.
"He was honest to the core and believed in the good of people. He helped everyone he could," Bob Markey II said. "He lived for his family, his friends and his community, and would do anything to better them."
He later wrote a book about his exploits in the newspaper business.
Markey and his wife Patricia, who passed away Dec. 19, 2008, helped start St. Rita Catholic Church in Wellington, which began meeting in a large trailer in Royal Palm Beach and briefly used the Markey family's organ for Mass. They financially supported St. Therese de Lisieux Catholic Church, also in Wellington, two decades later.
Markey, a Democrat with both liberal and conservative leanings, was a popular guest speaker at civic organizations — many of which he helped form or grow — and religious groups. He helped open Panther Run Elementary School and buried copies of the Town-Crier in its time capsule.
He organized a huge Wellington-Royal Palm Beach community effort in 1992 to collect goods for and resupply the victims of Hurricane Andrew in Miami-Dade County and spent time there helping in the recovery. Markey also coordinated and led efforts to feed the needy and the homeless on Thanksgiving and at other times.
"If someone came to him with some financial issue, he would just write them a check," Bob Markey II recalled. "They would promise to pay him back but… He loved people."
Markey played on the streets and rivers of New York City as a child of parents of modest means. Later, he reveled in telling New York stories, such as about the time he managed to bring the Hudson River Dayliner to a stop by crossing its path in a kayak, which he would carry home and store in his family's walk-up apartment, or sneaking into Columbia University's football stadium to watch the players compete with leather helmets.
Markey volunteered to fight in the Korean Conflict alongside his brother, Buddy, who was killed by a mortar. Stationed in Korea and mostly in the South Pacific, including the island of Kwajalein, he was a member of the Seabees, the U.S. Navy construction force. Markey later created and maintained a web site for his Seabees battalion, bringing together many of his comrades.
He studied at Manhattan College, Fairleigh Dickinson University, Fordham University and the University of Rhode Island.
Markey and his family came to Florida from Uniondale, Long Island in 1973, after 13 years of selling mostly real estate advertising for The New York Times, where he learned journalism and creative writing from the country's top writers. With a background in real estate and advertising in the "Mad Men" era, Markey operated a small advertising agency on Long Island, representing a school district and burgeoning firms. He also rode the 1960s and '70s slot car model racing craze, partnering with a friend in a slot car storefront raceway. He was a member of the Uniondale School Board and helped found and operate the Uniondale Badgers Youth Football League.
In 1973, Markey organized an unprecedented community parade and celebration in honor of Uniondale's only returning POW, Sgt. Richard Perricone. Markey infuriated politicians and endeared himself to the public by limiting their speeches to 5 minutes and threatening to yank offenders off the stage.
Moving his family to Central Florida to be close to Pat's parents, Markey was advertising director of the Evening Herald in Sanford in the mid-1970s. He helped run The Florida Catholic newspaper out of Orlando, before becoming national advertising director for The Palm Beach Post.
Markey loved photography and computers and brought the Town-Crier into the computer and pagination age. His children and wife developed their great fondness of cameras and all things digital from Bob Sr., starting in their New York basement dark room.
He loved to oil paint, especially landscapes, which lined his homes. Markey started Palms West Realty in 2000 and again brought most of his immediate family together in the business. For nearly a decade, he lived with Pat in Greenacres, moved back to Wellington for two years after her passing and most recently lived at The Cottages in Greenacres.
Markey was predeceased by his wife of 49 years. He is survived by daughter Patricia Bachi (Dan), son Brian Markey (Janice), son Bob Markey II (Lynda Eads) and five grandchildren: Daphne Markey, Collin and Devyn Bachi, and Hunter and Sydney Markey.
Funeral arrangements are being made through Palms West Funeral Home in Royal Palm Beach. A visitation is set from 4 to 6 p.m. Sunday, Sept. 22 (memorial at 5:30 p.m.), funeral Mass at 11:30 a.m. Monday, Sept. 23 at St. Therese de Lisieux Catholic Church on Lake Worth Road and a veteran's burial immediately afterward at the South Florida Veterans Administration Cemetery on State Road 7. The Markey family requests that in lieu of flowers, donations be made to Hospice of Palm Beach County.