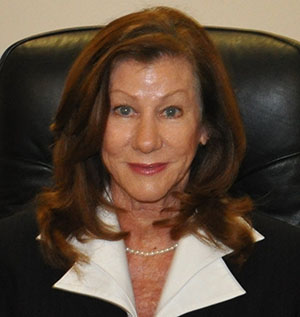 Former Royal Palm Beach Councilwoman Martha Webster announced her candidacy Monday for the District 6 seat on the Palm Beach County Commission. The seat is currently held by Commissioner Jess Santamaria, who will retire next year due to term limits.
Webster joins a Democratic primary that already includes Royal Palm Beach Councilman Fred Pinto and former Wellington Mayor Kathy Foster, who both declared their candidacies in June.
Webster served on the Royal Palm Beach Village Council for five years, including one year as vice mayor, before she was unseated by longtime Councilman David Swift in March.
Holding a master's degree in educational administration, Webster worked for several public-oriented organizations before entering politics, including as director of the Palm Beach County 4-H youth program for the University of Florida, the United Way and Consumer Credit Counseling Service.
"I believe it is time for the western communities and the central communities together to begin to have some of the successes that our eastern communities have," Webster told the Town-Crier on Tuesday. "We do have some economic successes… [but] we're languishing behind, and we need some strong leadership and representation so that we can begin to grow ourselves, but grow in the way that we want to."
Webster said she was present for Gov. Rick Scott's recent speech during a visit to Belle Glade and was inspired by his plans for that area. "He's talking about manufacturing jobs, which I think is a very good fit for the western communities, and we'll align with the distribution centers that we have started here with Aldi and American Tire," she said.
Webster said she holds similar views on education, the economy and the environment.
"The governor did say he's giving us $70 million for the lake and to start investing in the Everglades, and we're still working on Everglades restoration," she said. "Here's the difference: I really think that we've had a lot of promises and we've had a lot of stalled efforts, but it's time to make something happen."
Webster said she can provide the leadership to bring the diverse parts of the district along.
"We need someone who understands this part of the county, and I have worked in the central and western county at the grassroots," she said. "I've worked with the people out there since the mid-1990s when I started with Consumer Credit Counseling. I worked for United Way. I wrote programs to be delivered to the people out there, and I understand them."
Webster said she has met with the leaders along the lake, in South Bay, Belle Glade and Pahokee. "I can tell you that they all have a vision, they all have passion, and I think they have the momentum," she said. "What they don't have is the tax base, the financial structure and they're not going to get that until there is some leadership for all of us to work together to make that happen."
Webster noted that there has been a lot of talk about an inland port, which has not come to fruition. "We need to make it happen, and that's where I see myself as different from the other candidates who are in the race," she said.
Webster pointed out that during the five years she was on the Royal Palm Beach council, she reached executive levels with the Treasure Coast Regional Planning Council and the Palm Beach County League of Cities, and served on the Metropolitan Planning Organization. "I moved up through those because I applied myself," she said. "I worked with them, and I was selected to be on the executive committee by my peers because I participated."
Webster said she has been an active participant and has stayed current.
"I was chair of the legislative committee for the League of Cities and served on some of the legislative advisory boards at the state level, and that was just last year, so I believe that my experience is relevant and it's up-to-date," she said. "Things like State Road 7 — I've actively moved to make that happen, not just step up at a meeting when there is a microphone. I have worked for the people, and I will continue to work for the people."
Webster said she is aware that both of the other candidates have strong political backing, with Pinto being an aide to Santamaria and Foster having longtime Wellington support.
"This is a broader and a different race, and we have six municipalities and 90 percent of the area is unincorporated," Webster said. "They each bring with them something that they have, but we're still going to have to define ourselves and introduce ourselves to the voters. It's still early, and there may be more people."
Indian Trail Improvement District Supervisor Michelle Damone, who has been talked about as a possible candidate, told the Town-Crier on Tuesday that she is not considering running.
For more information about Webster's campaign, visit www.marthawebster.org.