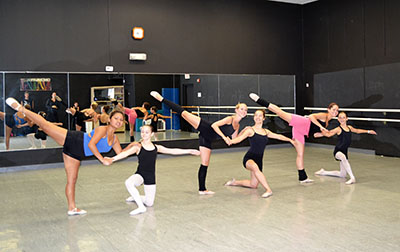 This Saturday, the stage of the Crest Theatre at the Delray Beach Center for the Arts will light up with local talent as Wellington Ballet Theatre presents Ballet Off Broadway. Shows are at 3 and 7:30 p.m., and there's still time to get tickets.
"We're really looking forward to doing our show and showing off our local talent," Rocky Duvall said. "It's going to be a great show."
Duvall and his wife, Dorie, are executive directors of Wellington Ballet Theatre. Duvall also serves as artistic director for the Dance Arts Conservatory.
Ballerinas will dance to familiar Broadway tunes from classic musicals such as The Sound of Music, West Side Story, Evita and Les Misérables, as well as current works such as Billy Elliot and Newsies!, featuring the Town-Crier. The program showcases dancers from across the area, joined by guest artists Rome and Marina Saladino.
"It's all local talent," Duvall said. "Everyone is from Royal Palm Beach, Wellington, Lake Worth and other communities around here."
Tickets cost $15 through the Crest Theatre Box Office or $19 online. All proceeds benefit Wellington Ballet Theatre. To purchase tickets, call (561) 243-7922 or visit www.delraycenterforthearts.org.
The all-ages show is choreographed by Duvall and his wife, along with Melissa Waters, and is sponsored by the Village of Wellington, Dance Arts Conservatory, Arrigo Fiat of West Palm & Sawgrass, Seasons Women's Care, Rejuvia Medspa, Symons Family Chiropractic, Floridian Community Bank, the Pediatric Center Inc. and the Steinberg family.
Duvall said the dances will be the troupe's interpretation of the Broadway show.
"We'll be doing single numbers from shows, as well as back-to-back songs," he said. "Like in West Side Story, where the Jets song goes into 'I Feel Pretty.' It's going to be our own interpretation of the dance routines from the shows. I think the audience will really enjoy it."
Wellington Ballet Theatre is a nonprofit organization that promotes the love of dance and stages dancers ranging from children age 5 and older to adults. There are about 40 dancers in the company.
"There are four divisions of our company," Duvall said. "The 5- to 8-year-olds are trainees, the 8- to 12-year-olds are apprentices, our corps de ballet is made up mostly of teenagers, and then our company dancers are teenagers and young adults."
You do not have to be a member of the Dance Arts Conservatory to join Wellington Ballet Theatre.
"Anyone from other studios can audition to perform with us," Duvall said. "We try to create performance opportunities for young people here in the community that highlights ballet and contemporary dance. It's not a competition."
The organization has been around for more than a year, performing for a crowd at the Wellington Amphitheater, among other venues. Duvall said he'd like to see a performing arts center in Wellington.
"We have plans drawn up for a 300-seat performing arts center," he said. "We need an indoor venue so we don't have to deal with the weather. We're looking toward the future of performing arts in the western communities."
Wellington Ballet Theatre is always seeking help from the community, be it volunteer assistance or donations. Anyone interested can visit www.wellingtonballettheatre.org or call (561) 296-1880.
"Anyone who wants to support performing arts in the western communities is welcome," Duvall said. "Contact us and let us know how you'd like to be involved."
ABOVE: Wellington Ballet Theatre dancers practice for this weekend's show.