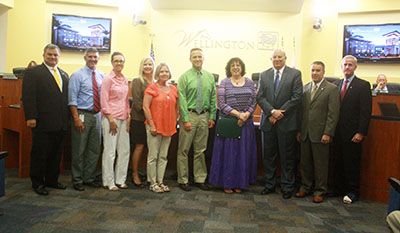 A partnership between the Wellington Preservation Coalition, the Village of Wellington and Elbridge Gale Elementary School will bring the school sustainable gardens and hands-on lessons about healthy foods from seed to table.
With the help of the coalition and the village, Elbridge Gale plans to expand an existing gardening program and earn recognition as a Green School of Excellence.
"We've wanted to make it real and hands-on for our students," Principal Gail Pasterczyk said. "We're also raising our students to be aware of the environment and the community. The big thing that's attractive to me are the partnerships."
Wellington Preservation Coalition Executive Director Tom Wenham said his organization is pleased to partner with Elbridge Gale.
"We believe our schools and the environment are two of Wellington's greatest assets, and this program will enhance both," he said.
The coalition will provide money for Elbridge Gale to purchase the bedding material and an aquaponic gardening system to go along with the school's traditional gardens. Elbridge Gale will be the only school in the western communities and the second in the Palm Beach County School District with an aquaponic garden. The Village of Wellington is assisting the school in obtaining compost made from horse waste to augment the beds.
"There are businesses and individuals that produce soil amendment and compost from the horse waste," said Mike O'Dell, project director for Wellington. "I'm excited that we can partner with them. This is something that can be the prototype for all the other schools to utilize."
The garden will get a kick-start on Sept. 28. Elbridge Gale will participate in the national Green Apple Day of Service on that Saturday, with teachers, students, parents and community volunteers all gathering at the school to set up the gardens. They also plan to create a human sundial in the courtyard. Green Apple is a global movement to put all children in environmentally healthy schools.
Elbridge Gale asked the Wellington Village Council to proclaim Sept. 28 as Green Apple Day, which the council did on Sept. 10.
Parents and residents who want to volunteer can stop by Elbridge Gale, or any Palm Beach County public school, to register by Sept. 13 to participate in Green Apple Day.
ABOVE: Wellington Village Council members with representatives from Elbridge Gale Elementary School at Tuesday's meeting, when the council declared Sept. 28 as Green Apple Day of Service in Wellington.